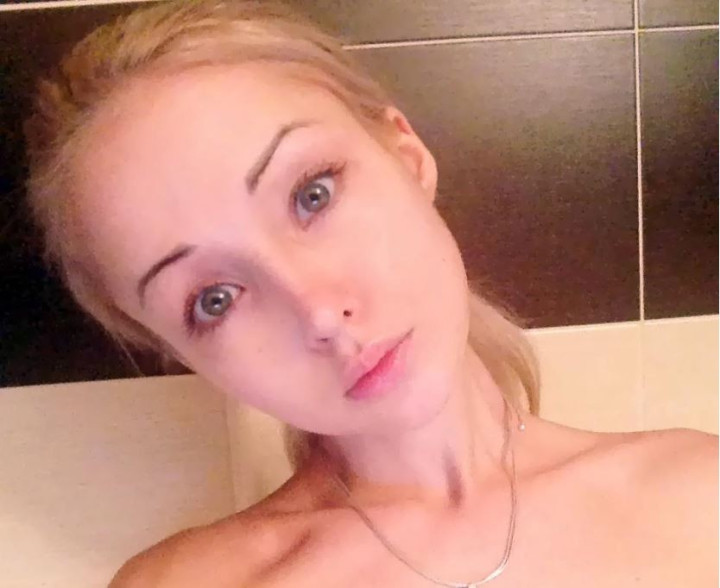 Ukrainian internet sensation Valeria Lukyanova captured global attention when she was declared a real-life Barbie doll, last year.
Lukyanova, who is noted for her large, glassy eyes and tiny waist has repeatedly denied undergoing plastic surgery, aside from breast augmentation and to retouching her images. To prove her point further, she has posted a make-up free image of herself on her Facebook account.
In an interview with Daily Beast earlier this month, she talked about her physical appearence.
"Most of my old pictures that you find on the Internet are Photoshopped. Don't believe any stories about me having rib-removing surgeries—they aren't true. The only surgery I had was the breast surgery. My mother's waist is as narrow as mine—I inherited that from her," she revealed.
Lukyanova, who recently starred in documentary on her life, also revealed her fitness regime.
"I do a serious workout in the gym three times a week and I run a lot. It is important not to eat for two hours after your work out—just drink liquids. I prefer liquid foods. But don't drink water with your food if you want to have a slim body. The biggest secret is the amounts of food I have—they are very small," she added.
Although she is married, she claims she will never have children.
"I am never going to have my own children. Once when I traveled outside my body, I remembered that I was not a human and my spirit is not a human spirit-I should not have children in this world," she said.
Finally, check out this video, reportedly of Lukyanova winning a beauty contest in 2007, which seems to suggest there has been some alteration in her physical features since then.