Valve Launches 'Big Picture' Interface for Steam Distribution Platform
Computer game developer Valve has announced a new TV-friendly interface for its online distribution platform, Steam.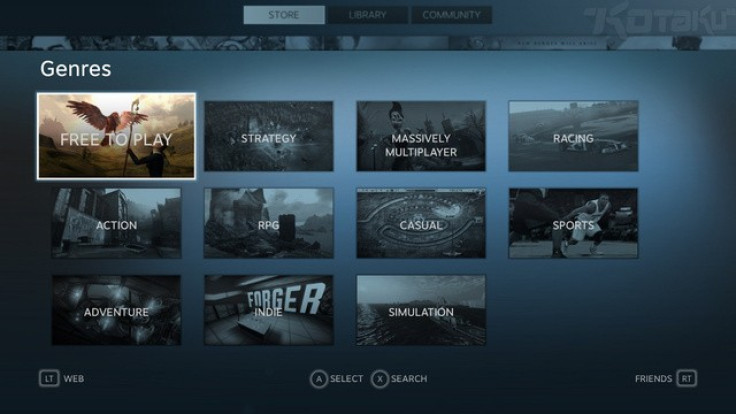 'Big Picture' is available for beta testing now, and includes a web browser and a redesigned virtual keyboard better suited to big screen televisions.
Accessed via a tab on the standard Steam hub, 'Big Picture' can be set to launch on default, better suiting players who use a dedicated PC connected to a television set. A Mac beta is expected in the near future.
The new interface adds to speculation that Valve is working on its own home console, to compete with the Xbox, Playstation and Nintendo Wii. But 'Big Picture' designer Greg Coomer has been quick to dismiss rumours that a so-called 'Steam-Box' is in the works.
Speaking to computer games website Kotaku, Coomer said:
"What we really want is to ship [Big Picture mode] and then learn. We want to find out what people value about that: How they make use of it; when they make use of it; whether it's even a good idea for the broadest set of customers or not, and then decide what to do next.
"So it could be that the thing that really makes sense is to build the box that you're describing. But we really don't have a road map. And we think we're going to learn a tremendous amount through this first release.
"We're confident in some things that customers want. They want a full-screen experience. They want to be in the living room. They want to use a game controller. They want to have a social gaming experience. And we have this platform that lets us ship a significant portion of that experience."
'Big Picture' also includes full access to the entire Steam store and will highlight games that are most suitable for your current PC control pad. Future plans include an auto-correct function and split-screen multiplayer, allowing two users to play together using their separate Steam accounts.
With 50 million gamers now registered to Steam, a successful beta trial of 'Big Picture' could convince Valve to finally move into the console market; if PC users are willing to play games via their TV, we may see a dedicated Valve console in the future.
© Copyright IBTimes 2023. All rights reserved.