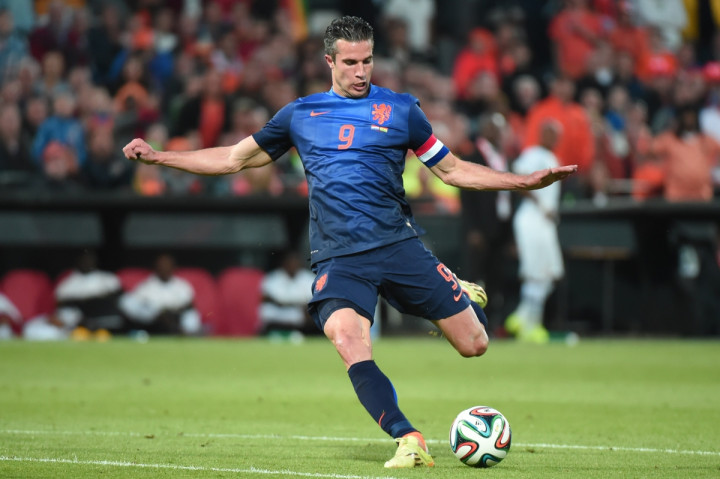 Incoming Manchester United boss Louis van Gaal has acknowledged his predecessor David Moyes' role in permitting Netherlands to help Robin van Persie recover from his serious knee injury in the last few months.
The Dutch striker sprained his knee during the Champions League fixture against Olympiakos at Old Trafford. Van Gaal had sought the Glaswegian's permission to allow Van Persie to return to his homeland and undergo special training to boost his fitness.
Last month, the 30-year-old returned to play the final three games for the Red Devils in the Premier League. Although Van Gaal, currently managing Netherlands, states that Van Persie is not completely fit, he is positive that the former Arsenal star could fully regain his fitness as the clock ticks towards the World Cup kick-off on 12 June.
"Van Persie had a heavy injury. So I think of course he is not 100% fit. He is not 100% fit. But he can play. He is coming out of injury, you know that. We built him already up in our federation, our medical department. It was under the permission of David Moyes," Van Gaal explained.
"So we could control him. He has worked very hard. Then he played two matches of 20 or 30 minutes and the last match 30 minutes. We did not expect that as the injury was bad. We have two weeks to go. But I think he will be 100%."
Van Persie, who is also Netherlands' all-time leading scorer with 43 goals, will be leading his country in the quest for their maiden World Cup trophy in Brazil.
Van Gaal played him for over 75 minutes in their last two matches against Ecuador and Ghana, where the striker scored a goal in each game.
The 2010 World Cup runners-up face a formidable Welsh side at Amsterdam Arena on 4 June before departing for South America to begin their Group B action against Spain, Australia and Chile.
The former Barcelona and Bayern Munich coach has set a target for his side to at least finish among the top four teams in the tournament.
"The purpose of the board is the semi-finals. I think it's a big purpose. The purpose is maybe too big an expectation. I think this team can beat all. But we can also lose. That's sport and we accept that but it's difficult for the Dutch people to accept," Van Gaal concluded.