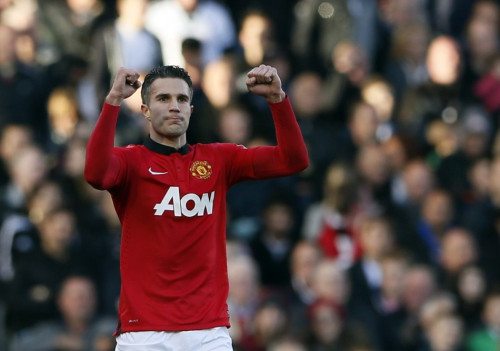 Manchester United forward Robin van Persie has attributed his development into a world class striker to Arsenal signing him at a young age from Feyernoord.
Van Persie was lured by Arsene Wenger in 2004 for a modest fee of £2.75m. The manager insisted at the time that he would adapt the Dutchman from a winger into a centre forward and that move has since shaped his career.
The striker stayed with the Gunners until 2012 when his contract was running down and he forced through a move to Manchester United. Within a season he won the title and last season finished as the Premier League's top scorer for a second successive campaign.
And Van Persie says that the move to Arsenal was what made him into the player he is today.
He told Uefa.com: "Coming to England was the best thing that could have happened to me because I was taking myself out of my comfort zone, out of my nice warm city where I had my family and my friends, and everything was in place.
"Suddenly 'bang', you are in a different country, you are lonely, and [you have to] deal with it. It made me tough, it made me harder and made me more focused on achieving all my goals. It made me realise that I had the biggest influence on my career, and no one else."
David Moyes admitted last year that United need a host of new players if they hope to seriously challenge in the Champions League despite safely progressing to the last 16 where they face Greek side Olympiakos.
Having come close to beating Real Madrid last season – with Nani's red card in the second leg of the last 16 proving to be then-manager Sir Alex Ferguson's undoing – United can't be discounted from the competition yet and Van Persie says it would be a dream come true if he could add the trophy to his list of achievements.
"It would mean the world to me," he explained. "Of course it's a trophy many players don't win; [you win it] once, if you're very lucky. You have a couple of players who've won it more than once but it's a very special trophy everyone wants to win every year.
"Only one team can win it, and it's very hard. It seems to get harder every year to win it, because the teams are getting better and better. So it's always hard if you want something everyone wants."