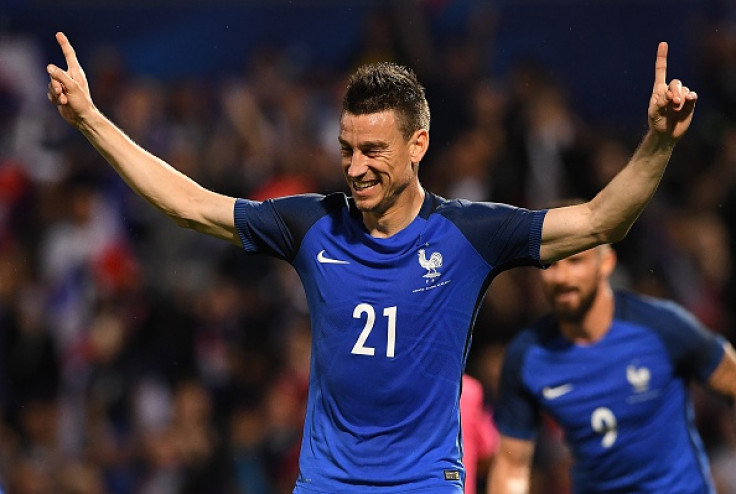 Laurent Koscielny is the latest Arsenal player to praise Jamie Vardy after Olivier Giroud had confirmed the striker's interest in joining the Gunners. The Leicester City striker has been linked with a move to the north London club this summer, with a deal said to have been close after Arsene Wenger triggered his £20m ($28m) release clause which was available to Champions League clubs.
A move that looked almost certain to go through now looks doubtful after Vardy delayed making a decision on his future until the end of the Euros following Leicester's counter offer to keep him at the King Power Stadium. According to BBC Sport, the striker has discussed the three-year deal worth around £120,000-a-week offered by the north London club, but is still undecided.
Wenger is acting early in the transfer market this season and has already captured the signing of Granit Xhaka from Borussia Monchengladbach, and is now keen on adding a striker, which was one his main priorities. Koscielny has backed the boss' decision to bring the 24-goal forward, who led Leicester to the Premier League title and believes Arsenal need additions to the squad if they are to challenge for the title next season.
"Jamie Vardy is very hard to play against because he likes to use the depth of the pitch and is very good at getting behind the defence," Koscielny said, as quoted by The Sun.
"In front of goal, he doesn't think – he feels the situation and he shoots as soon as he can. He has proved this season at Leicester that he can be a great striker and he has also scored some goals with England."
The French defender, who is currently preparing with his national team for the Euros beginning in France on 10 June has also praised Wenger, and believes his compatriot is the best man for the job despite not winning the league for over a decade. Wenger had come under tremendous pressure during the course of the season, with a section of the club supporters calling for change, but the Gunners boss made it clear that he will not walk away from his contract which has one-year to run.
"Although Arsenal finished second this season it is still a disappointment and if you look at the whole campaign we can have regrets. I think we had the means to compete to win this title but our results were too inconsistent, especially in February and March when we took very few points," the 30-year-old defender said.
"As soon as you miss an opportunity to get back to your opponents in England, it's very difficult to close the gap. Some injuries hurt us for the whole season like Santi Cazorla, Francis Coquelin and Danny Welbeck so now we have to learn the lessons next time, probably with some new players who will allow us to reach another level and have more consistent results," the French defender explained.
"I understand the frustration of the fans because we haven't won the title for a long time. But Arsene Wenger is a very good coach and he is still the best man for the job.
"He has been here for many years and has seen it all. I have so much respect for him as a coach and as a man. He's a very nice who has done amazing things at this club. He has helped Arsenal to grow and now we have a beautiful stadium and unbelievable facilities," he added.
"All the players owe him a lot so now it's up to us to what is necessary to win these titles."