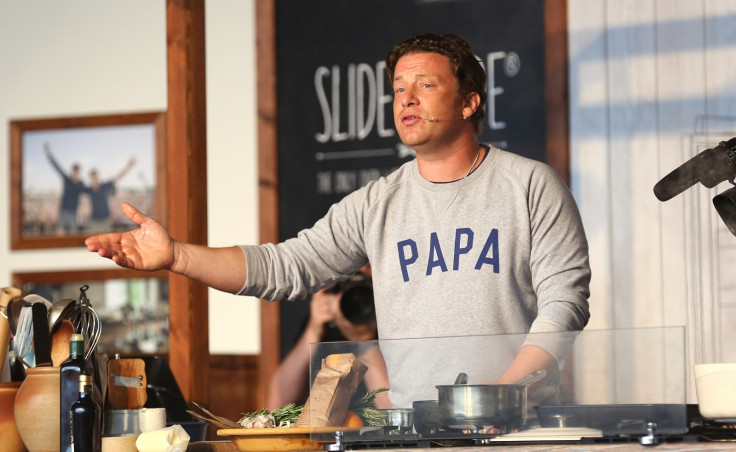 Jamie Oliver has vented his growing frustration with anti-meat activists, who he says have targeted his restaurants because they 'hate' him. In an interview with the Sunday Times magazine, the TV chef claimed that although he had love for vegans, he was annoyed by their determination to ruin him.
According to the father of five, vegans had orchestrated a campaign against him that involved disrupting patrons at his restaurants using aggressive methods to convince them not to eat animals.
He recalled one particular incident when "20 scruffy, weird-looking fellas putting iPads of slaughtered animals in front of kids having spaghetti bolognese on a Saturday lunch".
Addressing the backlash, he said: "They hate me because we do stories about higher welfare meat, which I am deeply passionate about, but for them it is on or off — there ain't no stepping stones, whereas I'm all about stepping stones," Oliver told Sunday Times magazine.
"Vegans do annoy me, but I also do care for them."
Vegans follow a plant-based diet that consists of vegetables, grains, nuts and fruits, excluding the consumption of meat and fish as well as any animal-derived product.
Back in March, vegan activists campaigned outside a packed Jamie Oliver restaurant in Bristol after the chef promoted 'happy milk' on television.
Josephine Robinson, who organised the demonstration, said Oliver's claims were "irresponsible" and accused him of cherry-picking information to promote his own agenda. "He was promoting free-range cows on the basis that they spend 180 days a year grazing but what he didn't mention that they also spend the other 180 days shut in shed in absolutely horrible conditions and that their babies are taken away from them," she said.
"The boy calves are then slaughtered and the girl calves go back into the dairy industry. They are artificially impregnated – which is a disgusting thing to be doing to them – and by the time they are five-years-old, they are so knackered and worn out, they are slaughtered.
"When Jamie said that milk is happy milk, it is full of anti-biotics and pus and blood. For him to speak out and say something like that, I feel that was really irresponsible."