Australian police have raised concerns that inaccuracies in Apple's iOS 6 Maps application could become a potentially life-threatening issue, as drivers become stranded for up to 24 hours in the outback.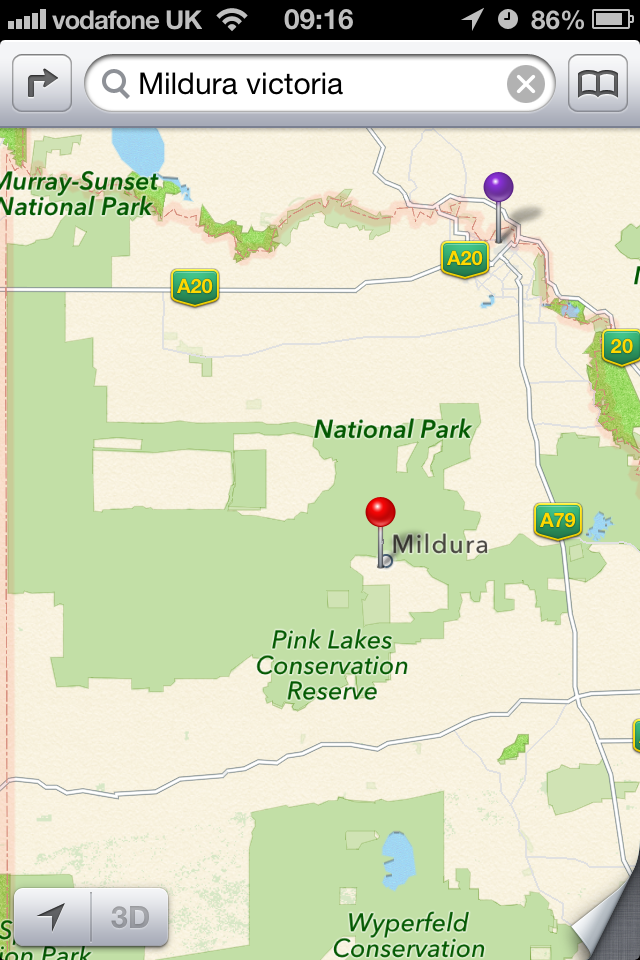 One man was stranded for 24 hours last week in an area where temperatures can reach 46 degrees centigrade, and at least three more motorists have been rescued due to the app positioning the city of Mildura in the park, some 70km south-west from where it actually is, encouraging drivers to leave the main roads.
In a statement on its website, Victoria Police said it is: "Extremely concerned as there is no water supply within the Park and temperatures can reach as high as 46 degrees, making this a potentially life-threatening issue.
"Some of the motorists located by police have been stranded for up to 24 hours without food or water and have walked long distances through dangerous terrain to get phone reception."
Victoria Police says it has contacted Apple about the incorrect location of Mildura, but the company is yet to comment publicly on the issue.
Other mapping services like Google and Nokia's Here position the city correctly.
After its release in September, iOS 6 has come under widespread criticism for poor and inaccurate data in its Maps application. In prior versions of the iPhone and iPad operating system Apple used maps from Google, but for iOS 6 the company created its own, using data from TomTom and others.
Other failures include Doncaster spelt as Duncaster, some satellite imagery appearing blurry or in black and white, and entire towns covered by cloud. The errors forced Apple CEO Tim Cook to issue a public apology on the company's website, stating he was "extremely sorry for the frustration" users have found with the app.
"We are doing everything we can to make Maps better," Cook added, before suggesting that users should try Google Maps or Microsoft's Bing instead of the native Apple application.
Soon after the apology Apple announced that its head of iOS Scott Forstall would be departing at the end of the year, a decision which was later believed to be because he would not add his name to the apology, instead leaving Cook to do it.
In November it was revealed that Richard Williamson, who was programme manager of iOS 6 Maps, had also been fired.