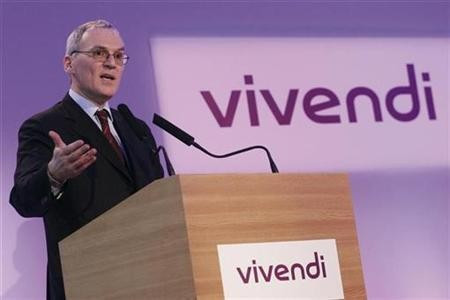 Shares in Vivendi are surging near today's close, after reports revealed that its CEO Jean-Bernard Lévy is quitting the company, amid disputes over strategic differences.
Vivendi stocks are currently trading over 7 percent to €14.42 as of 1400 GMT.
According to a report in the Financial Times, Lévy is set to leave after a board meeting on Thursday June 28 evening.
The departure follows just a matter of days after a weekend summit of directors and senior management was held to discuss shareholder pressure to split up the group.
According to people familiar with the situation cited by the FT, Lévy and the chairman Jean-René Fourtou argued over whether to break-up the company, which currently is a combination of the gaming unit Activision Blizzard, which publishes World of Warcraft and Diablo III, Universal Music and pay-TV company Canal Plus. It also has telecoms operations in France, Morocco and Brazil.
Fourtou has been notorious in his bid to break-up the company, while Lévy has been quite the opposite.
Lévy has fallen under a lot of criticism over the last few years.
Vivendi's profits have been hard hit after Lévy paid €7.8bn to buy out Vodafone's 44 per cent stake in SFR, just ahead of the upheaval in the French market.
Due to the hit in profits, Vivendi is expected to unveil a €1bn cost-cutting plan in the coming weeks.
In addition, Universal's £1.2bn bid for EMI's recorded music business has led to an intense set of regulatory scrutiny in the US and in Europe. Lévy masterminded the deal, in a bid to keep the company together.
Vivendi has yet to provide comment on the reports.
Elsewhere, another media giant is planning a major change.
News Corporation has confirmed that it will split its publishing and entertainment businesses into two separate publicly traded entities, with chief executive Rupert Murdoch at the helm of both.
The separation is expected to take a year to complete.
While News Corp's Fox subsidiaries, which include cable sports and film production, continue to deliver significant profits, the company's newspapers, such as The Times of London, struggle in a rapidly evolving environment for news businesses.
"There is much work to be done, but our Board and I believe that this new corporate structure we are pursuing would accelerate News Corporation's businesses to grow to new heights, and enable each company and its divisions to recognize their full potential - and unlock even greater long-term shareholder value," Murdoch said in a statement.