The FBI may have found a way to crack an iPhone but encryption grows stronger day by day. A new iPhone case claims to offer complete encryption against malware and hackers by merging software and hardware into one invulnerable encryption technology.
First unveiled at the MWC 2016 in Barcelona, the Vysk QS1 case professes to provide end-to-end encryption for voice calls, texts, photos and even location.
The Vysk QS1 case for iPhone 6, 6S, 5 and 5S has come on the heels of the Apple vs FBI encryption controversy. Given that the FBI has already cracked into Apple's iPhone, how strong of an encryption could a hardware device provide?
Vysk co-founder and CEO, Victor Cocchia told IBTimes UK: "In this technology-based world, trust has become of vital importance to consumers. People entrust their smartphones with private data and encryption ensures that their data remains private. But, encrypted software doesn't stop people from listening in to your calls. For example, Facebook and Amazon can access your microphone and camera to determine your spending behaviour and send you content accordingly."
"Even when your phone is off, your microphone and camera is working and can be accessed," he added. "This is where a hardware encryption device provides actual privacy. With the Vysk case, people will be able to talk to anyone, anywhere without the fear of being recorded or otherwise have your communications listened to".
Vysk is also currently working on developing an encryption case for the Galaxy S7 series, slated to be up and running in the autumn of 2016.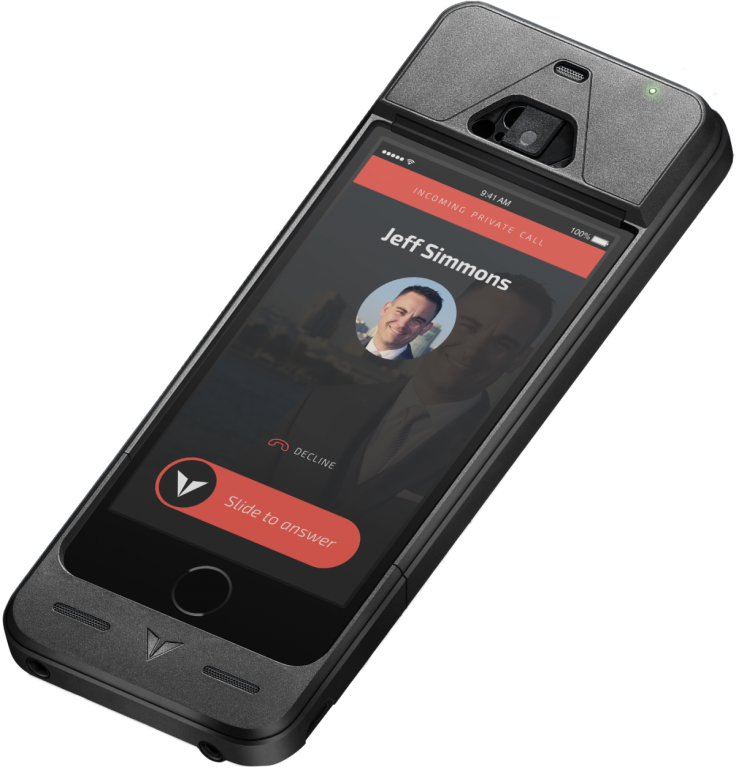 How it works
According to Cocchia, the Vysk case comes with a "Lockdown Mode", which when enabled provides end-to-end encryption for voice calls. Given that software is susceptible to malware attacks, Vysk uses the case as an added hardware protective measure. The case comes with its own audio processor software and three mechanical devices that jam all four of the iPhone's microphones in a way that anyone attempting to listen in will hear nothing. However, the jamming does not interfere with the user having a clear and audible conversation with a caller at the other end. The case also shutters the iPhone's camera, ensuring that hackers attempting to access user location or photos see nothing.
Vysk also has stand-alone apps like the Vysk Gallery app to secure photos and the Vysk Text app to encrypt text messages.
Non-intrusive technology
Cocchia says the case does not affect the iPhone's productivity in any way. Even when the "Lockdown Mode" is activated, users can continue to use their phones as they normally would. The technology has been designed to be "non-intrusive", ensuring that users can still connect to private or public Wi-Fi, make calls, download apps and so on, without fear of battery drainage or any other form of interference.
The QS1 case technology has been designed already assuming that your smartphone has been affected by malware. This means that even in the event that your iPhone has been affected by malware, the case's technology will still be able to provide end-to-end encryption for your calls, texts and photos.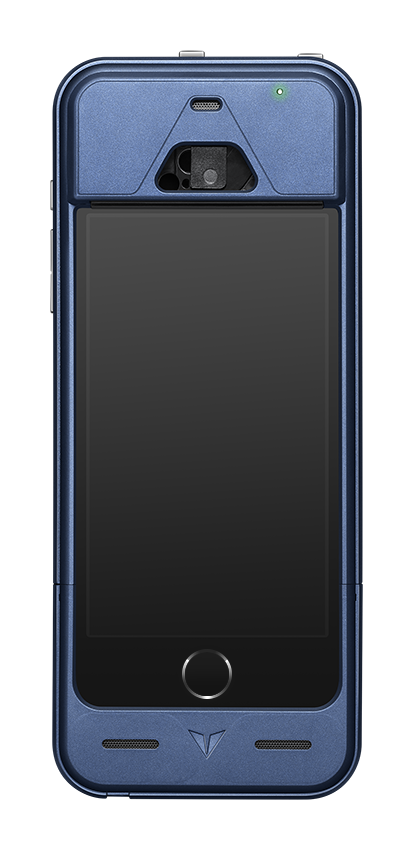 How private is private?
Encryption software programs sometimes end up encroaching on user privacy by recording or storing user data in order to provide the service. Vysk's QS1 case does not have a similar loophole. According to Cocchia, although the company does have an authentication server to ensure the user's identity is geniune, at no time is user data recorded or stored at the company servers. The amalgamation of hardware with software allows users enhanced privacy.
Dangers of encryption for all
A device that cannot be hacked like the QS1 case is sure to bring up concerns about safety and security, should the technology get into the hands of criminals and extremists. But Cocchia is of the opinion that the idea behind developing an encryption case was to ensure that people are able to securely use their smartphones, without fear of their private data being accessed. The product is aimed at enhancing productivity, especially for those involved in professions where confidentiality is key, he says, adding, the case can be invaluable for law enforcement officials, lawyers, journalists and even researchers.
Cocchia stressed that when developing the technology, he and his team were aware of the cost. However, being especially sensitive to the concern of how encryption may sometimes interfere with government-led investigations, he emphasised the company would cooperate with law enforcement agencies, once a court order had been verified, by turning off the service.
Encryption debate rages on
Despite the offer of cooperation, the fact remains that through technology such as Vysk's, user data will remain inaccessible to even state-sponsored hackers. This may be a cause for concern, especially given how even tech-centric countries like the US, UK and China have rapidly taken a stance for weakening encryption in consumer products.
In the UK, the Parliament recently pushed forward with the controversial Investigatory Power's Bill, nicknamed Snooper's Charter, amid rising concerns about how it may seriously affect the tech sector and citizens' privacy. In the US, the FBI having successfully hacked into the San Bernardino killer's iPhone, is now considering supporting other local and state law enforcement agencies on accessing encrypted smartphones involved in criminal investigations, while China, is already known for its laws restricting user privacy.