Two hitmen high on drugs slaughtered a teenager while howling manically in a bungled assassination.
Ben Hope, 39 and Jason Richards, 38, injected heroin before setting out to a hit ordered by a businessman on a former associate, a deed for which each man had been paid £1,000.
But the drugged up pair, who both had long criminal records, got the wrong address in Roath, Cardiff. When student Aamir Siddiqi, 17, opened the door expecting to greet his Islam teacher, he saw two balaclava-clad attackers wielding knives above their heads.
They set upon A-level Siddiqi with a hail of blows, letting out horrific howling noises as they viciously stabbed the teenager repeatedly.
When Siddiqi's horrified parents tried to intervene, they were each stabbed by Hope and Richards.
The pair's intended target, a father of four, lived around the corner.
At Swansea Crown Court, Hope and Richards were each jailed for 40 years. They were convicted of murder and attempted murder. During the trial, the pair each blamed each other for the crime.
Mr Justice Royce increased the term by 10 years because Siddiqi was a child and was murdered in front of his parents. He told Hope and Richards that the boy's parents have his violent death "etched onto their minds forever."
The pair were also jailed for longer because the attack was planned thoroughly beforehand, even though Hope and Richards bungled the operation. Justice Royce also cited their lengthy prior convictions.
In court, Siddiqi's mother told how she was wracked by grief at his death, which triggered the family to sell their home and leave Cardiff.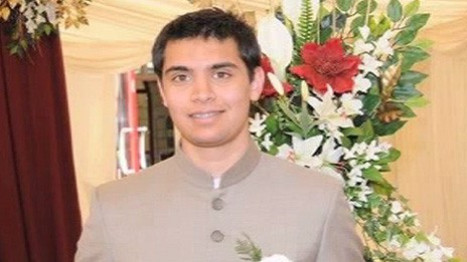 Outside court, Siddiqi's sister Umbareen said: "On behalf of the family, we're delighted. We feel this sentence is appropriate. Our brother won't return to us but this will go some way to achieving peace for all of us."
South Wales Police Detective Superintendent Paul Hurley said the murder was the "worst" of his career.
"This is a substantial custodial sentence reflecting the horrific and brutal murder of young Aamir Siddiqi in his own home.
"South Wales Police would like to thank the communities of Cardiff for their continued support, all the prosecution witnesses who've played an important role in this investigation and importantly the family of Aamir Siddiqi who've shown the utmost dignity and respect throughout this process."