Manchester United will offer England striker Wayne Rooney a new four-year contract, according to Goal.com. The 27-year-old ex-Everton youngster has only two years left on his present contract, which is believed to be worth £250,000 per week.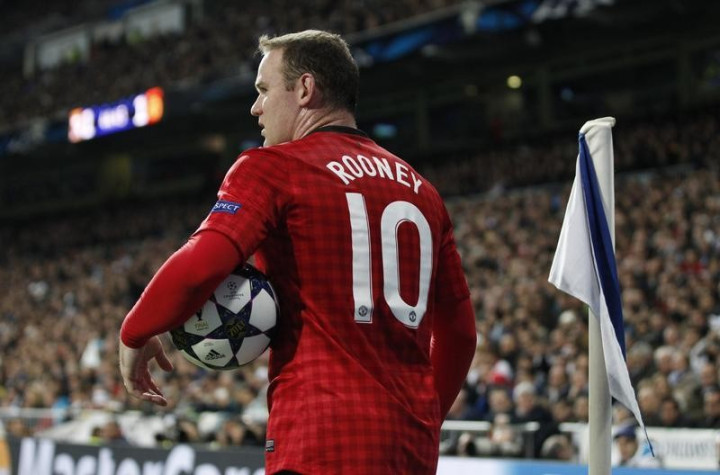 There has been significant speculation surrounding Rooney's Old Trafford future, particularly after he was dropped to the bench for the second leg of a Champions League tie against Real Madrid earlier this year. Since then, Ligue 1 leaders Paris St Germain (PSG) have emerged as strong contenders for the striker's signature.
Rooney has 16 goals and 13 assists this season, from 36 appearances in all competitions. The numbers represent a solid return for the year and Rooney has played an important role in United's record 20th Premier League title. However, the fact remains that the arrival of Robin van Persie has had a negative impact on Rooney's goal scoring form. Last season, for example, the England striker scored 27 times from 34 league games, a career best return in the Premier League, and only four assists.
Rooney's Midfield Experiment
The Dutchman's arrival has coincided with a season of midfield woes for Sir Alex Ferguson. Darren Fletcher continues to be unavailable with a bowel condition, Brazilian Anderson has struggled to establish himself in the side and Ryan Giggs and Paul Scholes, while still excellent options, are really only very short-term players.
England international Michael Carrick is perhaps the only truly top-class option at the club and has enjoyed a fine season. However, he too is on the wrong side of 30. Rooney's deployment in a central role against Stoke City in April was perhaps an indicator of where his tactical future might lie, were he to remain at Old Trafford.
At the time, Ferguson explained that Rooney's midfield role was to help him recover his confidence. However, the 71-year-old also admitted it was possible the striker would be played there more often. In addition, there are also concerns over Rooney's fitness; the Mail believes both Real Madrid and Barcelona are believed to have passed on signing him for that reason.
However, despite any such concern, it is understood Ferguson is open to the idea of Rooney remaining at the club. The Guardian quoted the long-serving boss as saying his striker was "hitting his peak at 27".
New Contract
As a result, it is believed the deal to be offered will include a significant number of performance-related clauses and a lower base wage. The striker's enormous present wage is the result of fierce negotiations in 2010, when Rooney was strongly linked with a move to local rivals Manchester City.