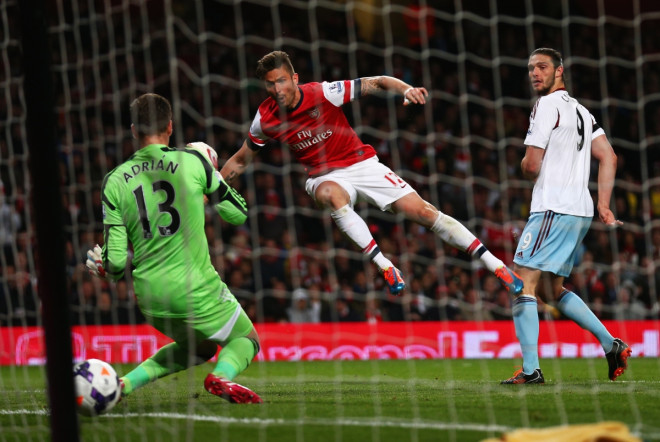 Arsene Wenger believes that Olivier Giroud has much room for improvement in spite of the player having improved a lot this season.
The Frenchman has 20 goals in all competition this season, a presentable statistic, but still some way off from the best strikers in the league. The striker started the season brilliantly, scoring in his first five games, but failed to keep up his form as the goals dried up.
The former Montpellier man has been given a lot of stick by the fans for his performance but the player keeps giving in his best day in day out, something which has been appreciated by the manager.
Wenger believes that Giroud went through a difficult phase like Mesut Ozil but his brilliant goal against West Ham will endear him with the fans and bring his credibility back.
However, the manager revealed that Giroud can improve on his headers, which rarely find the back of the net and anticipate the crosses which come in from the wide areas.
"Maybe he has improved his finishing but there is still some room for improvement. For example you expect him to score more headers. He wins a lot of headers coming from deep. But with the headers coming from wide areas, he still has room for improvement," Wenger told www.arsenal.com.
The Gunners are reported to be in the market for a striker in the summer and have been linked with a lot of players. It is reported that Wenger has fallen out of favour with the Frenchman and is looking to replace him when the opportunity arises.
"He is a strong lad, strong mentality, a strong, positive guy. He has a great mentality and that's what I think got him back. He has scored 20 goals, that is a great record, and he is working very hard for the team.
"The quality of the goal [against West Ham] gives him, I think, confidence again. It gives him credibility again for people who questioned his ability, so that is important.
"For a while he played maybe too many games... but he's a strong guy, he can cope with it. Up front it's difficult because every challenge he goes into is physical. He's not a guy who moves away from people to get the ball. He's a guy who fights with people to get the ball. When he comes out of the game he has 50 fights behind him. That is more demanding than the guy who just runs away," he concluded.