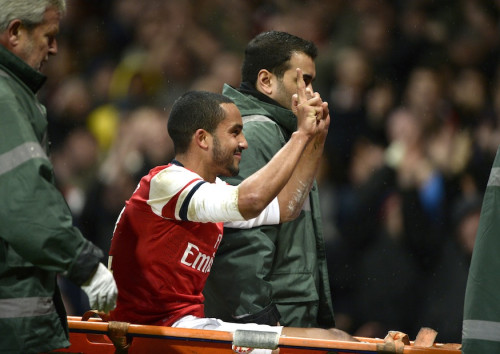 Arsene Wenger says he is still unsure of the extent of Theo Walcott's injury after the Arsenal winger was stretchered off during their win over Tottenham in the third round of the FA Cup.
In a particularly heated derby the Gunners came out on top of their bitter rivals and as Walcott was taken off with what appeared to be an injury to his leg the 24 year old gestured the scoreline towards the Tottenham fans.
Some have called his behaviour dangerous as it incited the Spurs' faithful to throw coins and other objects, but Wenger explained that while the side are assessing Walcott's injury it was in fact the coin throwing which incited the gesture.
He told reporters: "Theo has a knee problem, we don't know if it is a stretched ligament or just a kick.
"I've seen the pictures (of Walcott's gesture) afterwards. It does not even look aggressive, it's smiley. The doctors said to me the coins were raining over his head and that is why."
Arsenal will have been particularly pleased with their efforts on the day, having looked deserved winners by the final whistle.
And Wenger believes that the side are now achieving a balance of a successful defensive line-up as well as constantly finding space for goals.
He explained: "The game was played at a good pace and we controlled quite well both sides of it, the defensive and offensive."
Arsenal are currently in the best position they have been able to enjoy for some years, sitting at the top of the Premier League table and currently looking one of the favourites to lift the FA Cup and break their trophyless spell.
But in the Champions League they will face perhaps their biggest test of the season when they face a rampant Bayern Munich side who have hopes of lifting the trophy for the second time in as many years.