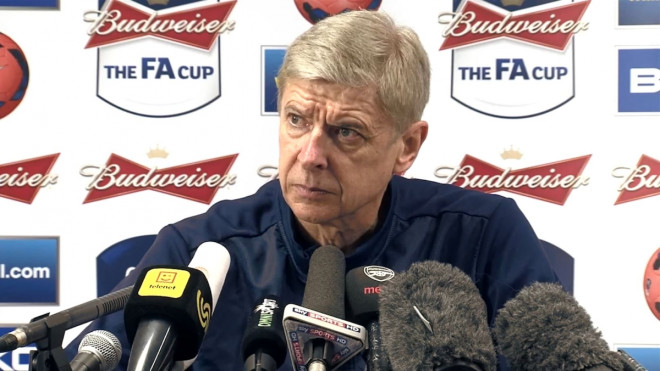 Arsene Wenger has revealed that Arsenal's failure to win the first big game amongst a series of tough fixtures spelt their doom in the title race.
The Gunners lost to Liverpool in the first of the many series of fixtures which were destined to determine the Gunners' season.
Arsenal were humilated 5-1 by the league leaders, and that followed a series of ignominous results, which ended with a 3-0 threashing at the hands of Everton.
Arsenal were leading the table for much of this season but their capitulation started with Liverpool as they lost to Chelsea, Stoke City and Everton in close proximity of each other.
The poor run of form has put the Gunners in a fix, with Everton currently two points ahead in fourth position and need to drop points in order for Arsenal to capitalise in the final stages, with five games to go in the season.
The Frenchman has always taken his side to the group stages of the competition in his 18 years in charge and will be looking to inspire his side to put in a similar performance they did last season to pip Tottenham for the coveted fourth spot.
"We had a difficult schedule and today the rate of the negative results and negative aspects of the results in the big games is massive," Wenger told www.arsenal.com.
"To deal with that is very difficult. When you have a succession of big games one after the other, if you lose the first one you are always in trouble.
"It's vital to me to do it [qualify for the Champions League]. I want this club to play in the top level competition. For that you want to be in the Champions League
"What will be an advantage is our desire to play in this competition because we love the Champions League and just to imagine how much we love it will help us to achieve it.
"I would like them rather to concentrate on the pleasure to be in it [than worry about not qualifying]," he concluded.