Wenger: I Love his Raw Enthusiasm. I Love it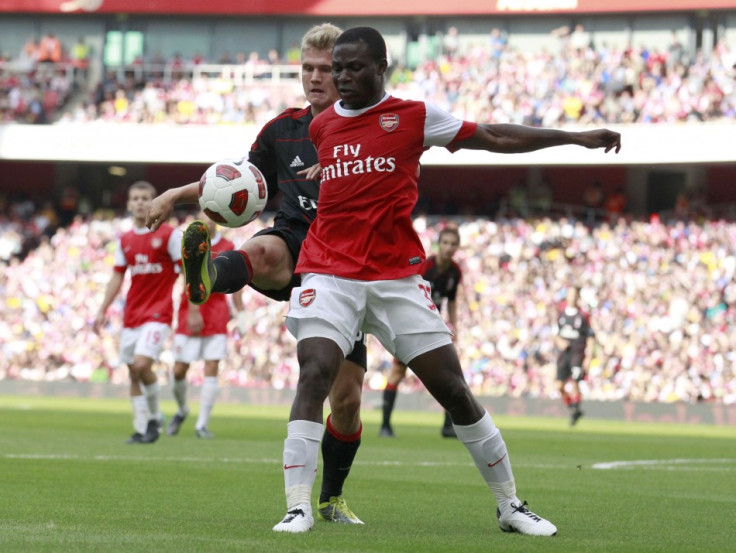 Arsenal manager Arsene Wenger concedes he faces a difficult balancing act in regards to shaping Emmanuel Frimpong's temperament.
On the one hand the long serving Arsenal boss loves the 19-year-old's enthusiasm and insatiable appetite to win football matches but on the other, he acknowledges the tough-tackling midfielder can occasionally get too wrapped up in the emotion of the game.
The precocious Gunners starlet was sent off against Liverpool in August and was embroiled in an unsavoury spat with former Arsenal star Samir Nasri at the Emirates last week, and Wenger suggests he must encourage the youngster to channel his obvious aggression in the correct way.
The Arsenal chief is eager not to curtail his young charge's competitive spirit, but he also is aware that Frimpong can become too involved with the emotion of the crowd.
"I love his raw enthusiasm. I love it," The Frenchman told Arsenal's official website. "The problem is to keep him on the right track.
"You don't want to see him lose that. He's a real fighter - you would love to go to war with Frimpong. But he also has to use his energy in a positive way because sometimes too much energy can be a handicap."
The Arsenal manager continued: "He learns, because he has a good mixture of confidence, humility and energy. So after the heat [of the moment], he accepts that he needs to think about what is wrong and right.
"He can get influenced by the crowd. Football is mad about what the game wants, not what the fans in the stands want. Good players always respond to the game situation and making the right decision and taking all the emotional part out of it.
"That's a question of experience. When you are young you think you have a strong shot and people say, 'Come on, have a go.' You are tempted to do it even though you have a pass to make.
"At 24, you think, 'Come on, I have a pass to make.'"
Some reports have suggested Arsenal could send Frimpong out on loan next month in order to further his development. Wolves and Bolton Wanderers have both been linked with the evidently gifted star but in the meantime the midfielder is likely to start Arsenal's encounter against Olympiakos this evening.
© Copyright IBTimes 2023. All rights reserved.