With the Golden Globes last night (7 January), Hollywood's award season kicked off with an emotional evening celebrating the best of the film industry that was dominated by the Time's Up movement against sexual harassment around the world.
Among the winners were emotional speeches of hope and defiance, setting the tone for the other major awards shows to come, culminating with the Academy Awards in March.
The 75th annual Golden Globes also offered an idea of how the the upcoming Oscars, not to mention our own Baftas, will pan out.
So here's what last night's ceremony means for the rest of awards season, ahead of the Oscar nominees being announced in a couple of weeks.
Best Picture
Three Billboards Outside Ebbing, Missouri was the night's big winner on the film side, taking home four awards. In doing so it cemented the fact that there's no clear frontrunner in the Best Picture race, and few in the other major categories. Best Picture could feasibly end up going to anyone.
Best Director
Guillermo Del Toro's Best Director win (The Shape of Water) puts him in a commanding position, but will still face stiff opposition from the likes of Martin McDonagh for Three Billboards and Christopher Nolan for Dunkirk, who could get some love at the Baftas.
As Natalie Portman pointed out however, all the nominees were men, which may open up the field a little for someone like Greta Gerwig, whose directorial debut Lady Bird won Best Picture (comedy or musical). A nomination for Patty Jenkins's work on Wonder Woman would be popular, but unlikely.
Best Actress
The Best Actress category would appear to be a three-horse race between Frances McDormand (Three Billboards), Sally Hawkins (The Shape of Water) and now Saoirse Ronan (Lady Bird), after she picked up last night's prize in the comedy or musical category. McDormand won the prize for drama.
Best supporting
Best Supporting Actor and Actress are tougher to predict, but last night's winners (Sam Rockwell for Three Billboards and Allison Janney for I, Tonya, are hard to look past right now. Opposition could arise from Octavia Spencer (The Shape of Water) however, or Armie Hammer (Call Me By Your Name).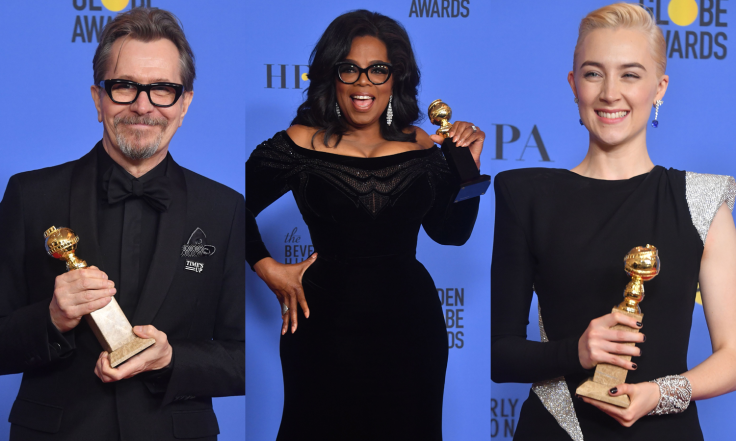 Best Actor
When it comes to Best Actor, there is a clear favourite in Gary Oldman, who has never won an Oscar and will likely be aided at the Baftas by being Brit. A win at the British Academy Film Awards would make him a runaway favourite, if he isn't already. Oldman played Winston Churchill in Joe Wright's Darkest Hour.
Get Out snubbed
Surprisingly, satirical horror-thriller Get Out was left empty handed, but that doesn't mean it's out of contention further down the line. The #OscarsSoWhite backlash of 2016 is still fresh in the memory and last year's Best Picture win for Moonlight (by no means a token gesture) did not and should not mark the end of the matter.
Of course, if Get Out wins anything it should be on its own merits, but given it's one of the most critically-adored, popular and timely films of the last year, that won't be difficult. Jordan Peele's classic is still a strong contender.
Time's Up
For all the glitz and awards however, the night was ultimately won by the Time's Up movement. Last night served as a sign that change is on the way, or as Oprah Winfrey put it in her extraordinary speech: "A new day is on the horizon". The 2018 awards season will be defined by that sentiment more so than any particular winner, and so it should be.
This year's Baftas take place on Sunday 18 February. The Oscars take place on Sunday, 4 March.