You may have noticed a new icon on the top navigation bar when you signed into your Google account this morning. This is a link to Google Play, but what exactly is this new service all about?
Google revealed earlier this month that it would be rebranding the Android Market as the Google Play Store but this is only the beginning, as Google is also incorporating its other content such as books, music and movies under the Play banner too.

The importance of Play to Google could be indicated by the position of the Play link between Google Maps and YouTube on the navigation bar. Going forward, it is going to become one of the most important aspects of Google efforts to continue to dominate in the smartphone market, and grow its share of the tablet market.
As we said, the Google Play Store will replace the Android Market as well as Google Music, the Google eBookstore and Google Movies being replaced by Google Play Music, Google Play Books and Google Play Movies respectively, thus creating a single,centralised location where all your content can be purchased - and stored - as well as accessed across your desktop, laptop, tablet and smartphone (the latter two running Android of course.)
This will be seen as Google's answer to Apple's iCloud which allows users to store their content in the cloud and sync it to all their iDevices. As well as challenging Apple, Google will be targeting Amazon which has created an eco-system all of its own and is currently the biggest challenger to the dominance of the iPad with its Kindle Fire.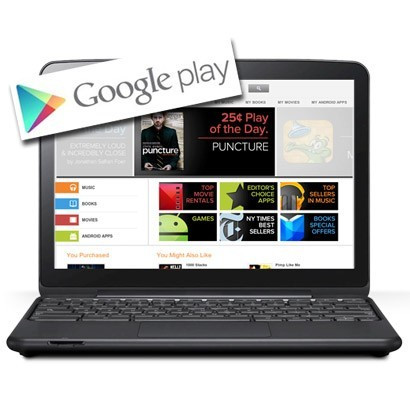 Google has clearly seen how Amazon is offering not just the hardware but also all the content which is consumed on it. Amazon makes very little, if any, money from the hardware sales of its Kindle Fire but makes its money by tying users into buying content from its store and Appstore and not from Google or anywhere else.
While the Kindle Fire is based on Android, the interface has been so heavily skinned that it is almost unrecognisable as the Google mobile OS. This allows the Kindle Fire to stand out from the crowd of Android tablets currently flooding the market.
Google has so far failed to make a serious impression in the tablet market, with just 12 million of the 300 million Android devices in use around the world being tablet - a figure which does not include the Kindle Fire as it does not give users access to the official Android Market.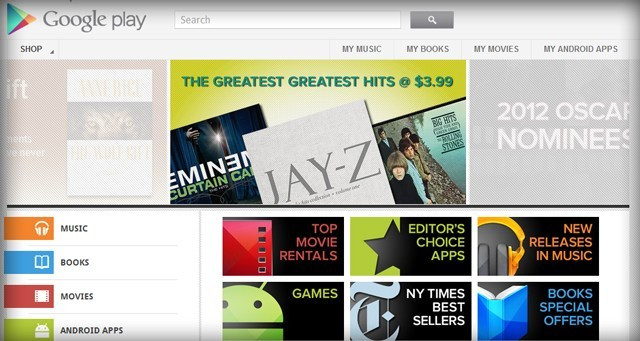 Google is planning on launching a 7in tablet in the next couple of months in the shape of the Google Nexus tablet. It will be manufactured by Asus and could feature Android 5.0 (Jelly Bean) and Google will be looking to replicate the success of the Kindle Fire by putting Google Play to the forefront of the new tablet.
It makes sense to group everything together under one umbrella with the Google Play Store offering access to apps, while Google Play Music, Google Play Movies and Google Play Books will be the other legs of the Google Play brand.
However, there are still some issues for Google to work out and among the biggest issue is an inconsistent experience for users in different countries. In the US, music, movies, books and Android apps are available in Google Play; in Canada and the UK, it'll offer movies, books and Android apps; in Australia, books and apps; and in Japan, movies and apps. Everywhere else, Google Play will be the new home for Android apps.
It is also unclear if phones using Android 2.1 or earlier be able to access the new service, though considering this represent only 8 percent of Android devices (and diminishing) it shouldn't represent too much of an issue.
Google Play is certainly a step in the right direction for Android and Google. It should make it easier for smartphone and tablet users to find content and eventually buy it. It is a step which was necessary if Google's Nexus tablet is going to be able to challenge the Kindle Fire as a content-focused device.
Google is aware of the issues surrounding the fragmentation of its OS with Google Play it seems to have taken the first tentative step towards making things a little easier on the user and most importantly on the developers, who recently have begun to complain about the nature of Google's business model, and have begun to favour iOS over Android.