Five years on from Rupert Murdoch's failed bid for the 61% of UK TV giant Sky that he does not own, he is back with a new takeover offer worth 11.2bn ($14bn) pounds. This is worth 1,075p per Sky share, in cash.
But even with the 30% share price jump that Sky benefited from on Friday (9 December), it has still done worse than the UK stock market since mid-2011 (see chart 1).
This move would consolidate Murdoch's control on UK TV as well as print media, in addition to his widespread US media interests (including 21<sup>st Century Fox, the Fox News TV channel and The Wall Street Journal).
This is of course great news for Sky's top management, who stand to make almost £40m from lucrative share awards, according to The Guardian, should this deal go through.
Sky has done a lot worse than 21<sup>st Century Fox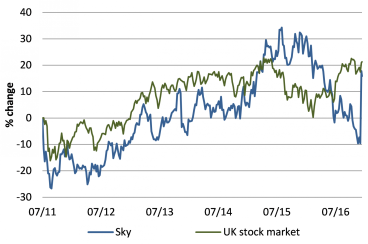 One reason that Rupert Murdoch is able to make this renewed bid for Sky is the strong performance of the 21<sup>st Century Fox share price, which has outperformed Sky by 80% in US dollar terms (FOX is quoted on the US stock market) since mid-2011 (see chart 2).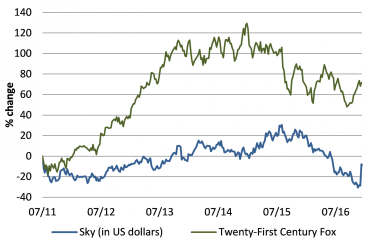 One motivation for this takeover offer is clearly the low value of the pound sterling against the US dollar. Back in 2011 the pound traded at over $1.60 but now post-Brexit it trades at a far lower $1.26, over 20% cheaper than back then.
We have seen a number of takeovers for UK companies by foreign buyers in recent months, including UK Mail (bought by German competitor Deutsche Post), Poundland (bought by the South African conglomerate Steinhoff) and ARM Holdings (bought by the Japanese company Softbank).
This leads to the suggestion that UK plc seems to be for sale, in spite of uncertainties around Brexit.
Three UK companies that could be ripe for acquisition
Let's look at three sectors that could be attractive hunting grounds for potential acquisitions by overseas companies: media, healthcare and luxury goods.
Media: ITV (UK code: ITV; current market capitalisation £7.7bn) would be an obvious first choice in this sector. Not only does it broadcast programmes in the UK, but it also creates them via its ITV Studios subsidiary.
ITV Studios produces such hits as I'm a Celebrity... Get Me Out Of Here, Cold Feet and Victoria. Programming content is all-important in today's media world, as exemplified by the push by both Amazon and Netflix into producing their own original content for their pay-TV platforms.
Healthcare: Shire (code SHP; current market cap £40bn): this pharmaceutical company makes much of its profit in the profitable US healthcare market, and has recently increased its US exposure through a takeover of US rare disease specialist Baxalta. Valuation is cheap with a P/E ratio at a lowly 11 times, and the average analyst price target remains 38% above Shire's current 4,360p share price.
Luxury goods: Burberry (code BRBY) has reportedly rejected multiple takeover offers already from US handbag maker Coach. While not exactly a cheap share, successful listed luxury goods makers are rare and have been taken over in the past by companies such as France's LVMH (think Louis Vuitton and Moet et Chandon) and Kering (think Gucci and Puma).
Disclaimer: Edmund Shing owns shares in Shire plc.