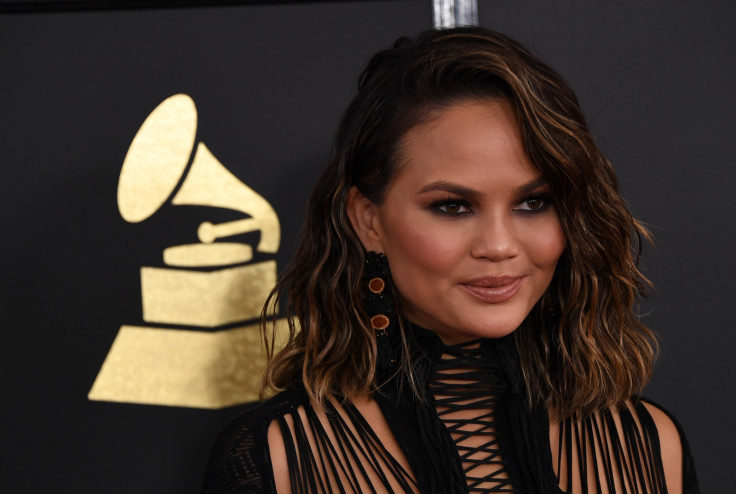 Comeback Queen Chrissy Teigen may be quick-witted and unflappable, but sometimes she stumbles on a risque TV show that leaves her genuinely shocked. The model has taken to Twitter to express her surprise at seeing penises on a dating show.
The 31-year-old model, who flew into London on Sunday (10 September) to support her husband John Legend as he continues the European leg of his tour, innocently tuned into Channel 4 to watch Naked Attraction while relaxing in her hotel room.
Unknown to her, the controversial dating game show involves a clothed singleton selecting a date from six naked hopefuls, whose bodies and then faces are revealed in stages from the feet up.
Taking to Twitter, Teigen told her 7.27m followers: "Uh there is something called Naked Attraction on here in London and WHAT TF IS THIS it's dating based on genitals. Like I'm seeing pp's.
"Oh my god they are just looking at genitalia. It's zooming in on penis and balls," she continued.
Sensing her shock and confusion, many of her followers attempted to explain the premise behind the show to the American star, while some Brits simply hung their heads in shame.
"On behalf of the UK.....I'm sorry," one person said, while another wrote: "I'd like to give you my Sincerest of Tea stained apologies..."
Others confessed the show was slowly becoming a guilty pleasure, with one writing: "I'm British I'm too am sorry. I am guilty of watching it sometimes and just think WTF every time. It is just weird to see."
"I know but at the same time once you start watching you can't not look" another admitted.
A third replied: "I can't tell if Chrissy Teigen is thoroughly amused or utterly disgusted by UK TV but I'm so glad this particular tweet exists."
The outspoken mother-of-one, known for her hilarious sense of humour, continued to live tweet her firsthand experience by imagining being on the show. She added: "I would die if I were the first person eliminated based strictly on genitals."
However, she was soon left feeling rather red-faced when she was nearly caught watching the X-rated show by room service. "Room service came and I had to pretend to be watching tennis," she informed fans before signing off.