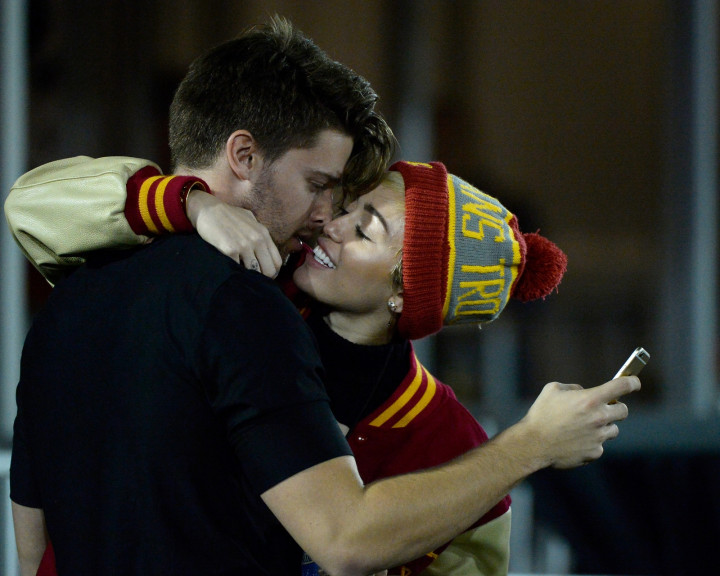 She vowed to give love a second chance after her split with Liam Hemworth last year and it looks like Miley Cyrus is a woman of her word.
Following weeks of speculation, the pop star has confirmed that she is dating Patrick Schwarzenegger, the handsome son of Hollywood actor Arnold Schwarzenegger.
Cyrus went public with the romance during the recent USC Trojans football game against the California Golden Bears by putting on a very passionate display.
The new couple made sure all eyes were all them as they kissed and cuddled in full view of hundreds of spectators at the Los Angeles Memorial Coliseum. They even posed for some cute selfies together on the side-lines.
But this isn't the first time Cyrus and her new beau have been romantically linked. They are said to have enjoyed a few dates back in 2011, while Cyrus was on a break from her then-boyfriend Liam Hemsworth, before going their separate ways.
Schwarzenegger even gushed about her in an interview telling Detail Magazine: "My eye, though, is set on Miley."
And it looks like Cyrus is finally in a happy place after reconnecting with the model and actor.
"Miley is very happy. That was the first time she met his mom and it went well. She was super nervous, but they were all really nice to her, she's so relieved," an insider told HollywoodLife.com.
She has met Patrick's sister before and she's always been nice to her, but Miley was nervous about meeting his mom for obvious reasons."
Here's all you need to know about Patrick Schwarzenegger...
Patrick Schwarzenegger facts
He is the first son of Hollywood actor Arnold Schwarzenegger.
He is an American model and actor. You may remember him from the movies Stuck in Love and Grown Ups 2. Also played Romeo in the music video for "Right There" by Ariana Grande.
He is 21 years old
He is business mined and founded his company Project360 when he was just 15.
Patrick is a student at the University of Southern California