On 30 January's Monday Night Raw, the night after this year's Royal Rumble, Samoa Joe made his main roster debut as an enforcer for 'The Game' Triple H. He marched down to the ring and took out Seth Rollins, injuring him (for real) in the process.
While accidental, the injury has put Rollins' marque match with Triple H at Wrestlemania 33 in doubt – but the attack certainly helped Joe make an impact. In his second week as a member of the Raw roster, 'The Destroyer' had his first match against Roman Reigns, scoring a pinfall victory when Braun Strowman interfered.
Samoa Joe Fact File
Real Name: Nuufolau Joel Seanoa
Date of birth: 17 March, 1979
Home town: Orange County, California
Height: 6'2
Weight: 282lbs
Current theme tune: "Destroyer" by CFO$
Family: Married to Jessica Seanoa since 2007
Who is the 'Samoan Submission Machine' though, and why should WWE fans be so excited to see him on Raw? Here's all you need to know.
Who is Samoa Joe?
Born in California, Joe, real name Nuufolau Joel Seanoa, entered the world of professional wrestling in 2000 when he signed for Ultimate Pro Wrestling. He went on to perform for Pro Wrestling Zero-One in Japan before signing for US indie promotion Ring of Honor (ROH).
It was in ROH that Joe made his impact on the scene. From 2002 to 2008, he took on opponents including Low Ki, Christopher Daniels, Austin Aries and future WWE main-eventers CM Punk and Daniel Bryan (then known as Bryan Danielson).
Joe held both the ROH World Championship and the ROH Pure Championship, and took part in numerous classics against Punk, Bryan and Japanese legend Kenta Kobashi.
In 2005 Joe signed for Total Nonstop Action Wrestling (TNA) and went on an undefeated streak lasting 18 months – a streak ended at the hands of Kurt Angle. Along the way he held the X-Division Title and took part in an instant-classic three-way match against Daniels and AJ Styles.
A lengthy feud with Angle followed, which marked the end of Joe's main event career with the company. He remained with TNA until 2015, holding the TNA World Championship once, the TV Championship once, the X-Division Championship five times and the TNA Tag Team Championships twice.
Joe worked for various independent companies during his time with TNA, and returned to them after his stint there. He also made his way back to ROH to take on their World Champion Jay Briscoe, who defeated him. On 20 June 2015 he had his ROH farewell match, a tag team encounter in which he and Styles defeated Daniels and Frankie Kazarian.
Later that year he signed for WWE and joined the developmental NXT brand. Not long after joining he won the Dusty Rhodes Tag Team Classic with Finn Balor, but turned on his partner in November. In December he fought Balor for the NXT Championship, losing the match in question.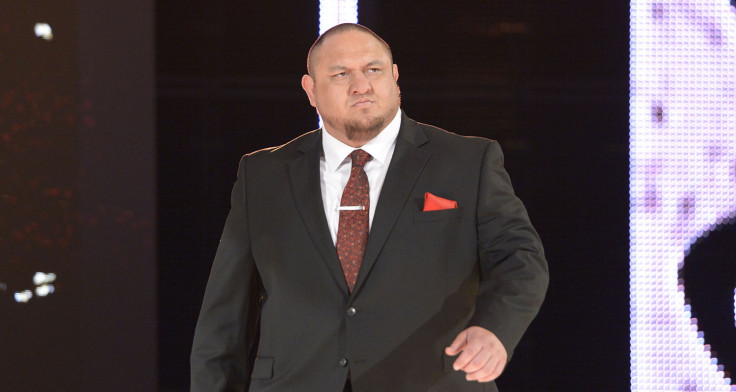 In April 2016, Joe defeated Balor to win the title at an untelevised live event. He defeated Balor in his first defence, then feuded with Shinsuke Nakamura The pair traded the title back and forth during successive bouts, which meant Joe became the first person to become a two-time NXT Champion.
Following that feud, Joe took some time off before his main roster debut on Raw on 30 January.
Samoa Joe's signature moves include the Muscle Buster – a move typically taken off the second or top turnbuckle ropes – and the Coquina Clutch, a rear naked choke that typically ends with Joe wrapping his legs around his opponent for leverage.
In the first part of his career he was known as The Samoan Submission Machine, but this became The Samoan Submission Specialist in WWE. Current plans haven't indicated what Joe's role will be at Wrestlemania 33 on 2 April 2017 in Orlando, Florida.
However, a feud with Seth Rollins is somewhat inevitable in the months following Wrestlemania given the injury.
What are Samoa Joe's career highlights?
TNA X-Division Championship match against Christopher Daniels and AJ Styles – given five stars (out of five) by Dave Meltzer of the Wrestling Observer, who famously doesn't hand out top marks often. (11 September 2005)
Defeated Japanese legend Kenta Kobashi in another five-star match. (1 October 2005)
Named Wrestling Observer's Most Outstanding Wrestler of 2005.
His feud with Kurt Angle earned Joe a lot of attention as it was Angle's first feud in TNA following his departure from WWE.
His NXT run was considered a return to form for Joe, particularly his title wins and defences against Finn Balor and Shinsuke Nakamura.