A leaked video claims to show the Chromebook Pxiel, a laptop designed and built by Google and running its Chrome OS. Whether it is an elaborate hoax or a real product, this laptop is just what Google needs.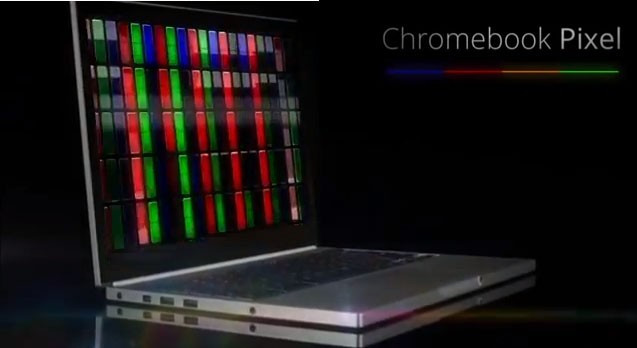 Chrome OS has had a pretty slow start to life having launched back in 2011. However the second generation of laptops from Acer and Samsung have been well received with Samsung's 11in offering topping Amazon's sales charts over the Christmas period.
In order for Chrome OS to become a viable, mainstream alternative to Windows, Linux or Mac OS X, it needs a flagship device to show off just what it can do. The Chromebook Pixel could be that device, giving the platform the boost it needs.
Google's Chrome OS is its lightweight desktop operating system where everything is handled in the cloud and through the Chrome browser, meaning it requires a constant data connection in order to work properly.
So far Google has four manufacturers building laptops using its Chrome OS - Samsung, Lenovo, Acer and most recently HP. The main attraction of the laptops so far is their low price, with Acer's Chromebook costing just £199.
The Chromebook Pixel, if a leaked video (below) is to be believed, is "Designed by Google" and according to reports at the end of last year is being manufactured by two ODMs (original design manufacturers) - Compal and Wintek.
What appears to be a very convincing promo video for the unannounced product was spotted on YouTube by Franiҫois Beaufort, a web developer, who said that all he knew about the laptop was that it was being tested at Google right now. He also called the laptop the Google Link rather than the Chromebook Pixel.
The video appeared on the YouTube channel of Slinky.Me, a company founded in 2010 with the mission to "build the world's largest visual guide." The company's CEO Victor Koch announced on the company's website as well as on his personal Google+ page that his company's servers had been hacked and that many projects had been "shown previously."
Koch lists Google as one of his previous employers on his Facebook page, possibly indicating why the promo video for the laptop was leaked on his company's YouTube channel. He also tagged Google co-founder Sergey Brin in his Google+ posting.
Chromebook Pixel specs
In terms of specs, the video and Beaufort claim the laptop will have a high resolution display, featuring over four million pixels - hence the name. It will rival Apple's Retina Display on its latest MacBook Pro laptops, with a resolution of 2560 x 1700 pixels.
"The more pixels we add, the more wonderful the world," says the video's narrator.
The screen also promises to be touch-enabled, a first for a laptop running Chrome OS, and this ties in with the reports from China Times last November that Google had partnered with Wintek, whose main area of expertise is touchscreens. The company also makes touchscreens for Apple's iPhone.
In order to make use of the touchscreen, Google will have to redesign Chrome OS in a similar way to Microsoft re-imagining Windows 8 with the touch-centric Strat screen and tiled interface.
The laptop appears to have a fully-flat design similar to a number of laptops on the market at the moment, including the MacBook Pro.
The video shows a number of ports on one side of the laptop, including a couple of USB ports as well as one port which has a striking resemblance to the Thunderbolt port seen on Apple's laptop line-up.
Pricey
However, providing a touch-enabled, high-resolution screen as is rumoured would push the price of the Chromebook Pixel up. In order to power such a screen, the laptop would also be required to have a fairly powerful processor and GPU, again making it more expensive than Chromebooks from its OEM partners.
While certain OEMs were not best pleased with Microsoft's decision to launch its own Windows 8 hardware in the shape of the Surface, Samsung, Acer, Lenovo and HP should embrace the idea of the Chromebook Pixel as it will pique people's interest in the platform, and the trickle-down effect will be good for everyone.
Google could of course sell the Chromebook Pixel at cost, looking to recoup profits from sales of Google Apps' subscriptions as well other media.
Google has refused to comment on the leaked video thus far, but if Beaufort is right, and Google is testing the laptop at its Mountain View campus at the moment, it is almost certain that we will see the laptop, along with a new Nexus tablet and smartphone at the Google I/O conference in May.