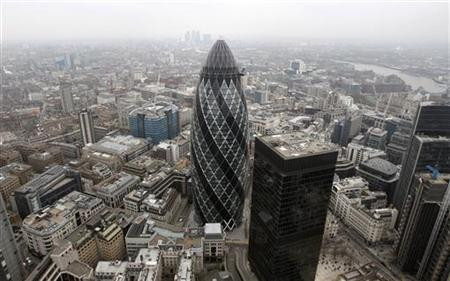 To excuse what is already becoming a tired cliché, the Gherkin has got itself in a right pickle.
The City of London skyscraper, more properly known as 30 St Mary Axe, went into receivership, just 10 years after it became an integral part of the capital's skyline.
Deloitte is acting as the receiver and Neville Kahn, joint receiver and restructuring services partner, said: "Our priority is to preserve the value of this asset. We are in the process of communicating with all tenants and working with the property manager to ensure the continuation of all property management services with no interruption to tenants."
But how such a trophy building get into such a mess?
The official line is: "Adverse interest rate and currency movements have caused the total senior liabilities secured by the property to increase materially."
When IVG Immobilien AG and Evans Randall purchased the building in 2007 for almost £600m (€729m, $1bn), they paid for part of it through a 15-year loan.
Some of the loan was in Swiss francs, which have gained drastically on the pound – almost 63% - causing a break in the loan-to-value threshold.
The buyers had been defaulting on their £400m loan since 2009 because of interest rates.
And at the end of 2013, IVG filed for insolvency in a German court. It had amassed over €4bn in debt during a rapid expansion when it financed a business and hotel complex at Frankfurt airport called The Squaire.
The German firm managed to bounce back after its private fund management division was purchased by Deutsche Fonds Holding AG in March.
But it seems that the new backer was not able to keep up with repayments either as the Swiss franc grew ever stronger against the pound.
That means that for the second time in 10 years, the Gherkin is looking for new owners.
Deloitte said it was likely to be sold within the next few months and would be hoping to recoup the majority of the £600m originally paid for it.
A source close to the project told the Independent: "This is a trophy product. Values for prime assets are approaching the levels we saw at the peak of the market."
Potential buyers are likely to include Chinese insurer Ping An.
Hot Property
The Gherkin has fared well in terms of letting space. It has fully let all of its 76,500 sq metres and according to property industry sources, demands some of the highest office rents in Europe.
An economic surge in England's capital has meant that office space has been scarce around the capital – except in Canary Wharf where skyscrapers are struggling to find tenants.