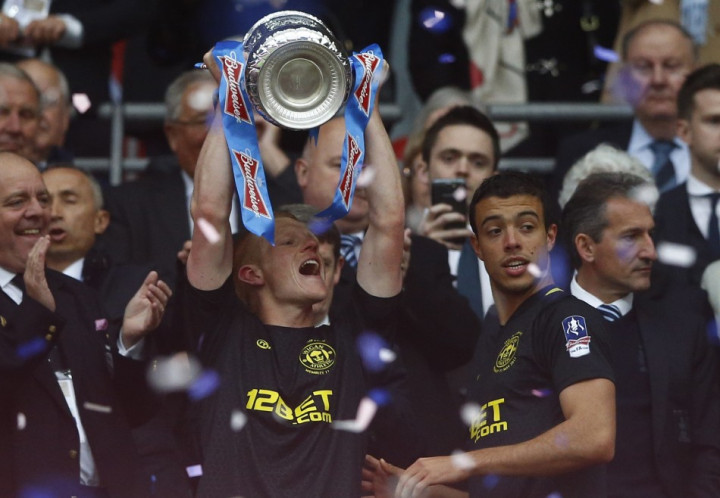 Wigan's goal-scoring hero Ben Watson has told IBTimes UK that his last-minute winner against Manchester City in the FA Cup final on Saturday 11 May is the pinnacle of his career.
However, the midfielder said the team have already turned their attention back to the league, and the battle for Premier League survival.
Speaking to IBTimes UK after yesterday's final, Watson said: "This moment ranks at the top for me, definitely. Scoring the winner in the FA Cup final is huge.
"But we've got two more games now and hopefully we can top this off. We know when we play like that we can beat anyone, and hopefully we can do that for the next couple of games."
When asked about man of the match Callum McManaman, Watson said: "Cal's got natural ability and he gave [Gael] Clichy a bit of a runaround today, which not many people can do.
"He's been great for us this season, and hopefully that continues the next couple of games."
Watson's team-mate Paul Scharner said yesterday's match "puts Wigan to the next level. They are established well in the Premier League, but now with the FA Cup win and qualifying for Europe, it means a lot.
"I'm the first Austrian to win the FA Cup, and that means so much. It's amazing. You can't expect that when you're signing a loan agreement!
"I look back on it [the journey to the final] as luck. In my first game for Hamburg I got sent off after 35 minutes for two yellow cards, and if that hadn't happened maybe I wouldn't be here. I am quite lucky I got sent off."
Despite the euphoria of yesterday's victory, Scharner said that both McManaman and Roberto Martinez could leave this summer. "It all depends on the league status" he told our reporter.
More on the FA Cup final: Exclusive interview with Dave Whelan of Wigan