WikiLeaks emails shows close link between Google's Eric Schmidt and the Democrats
Former Google chief executive created a 'strategic plan' for Democrat Party success.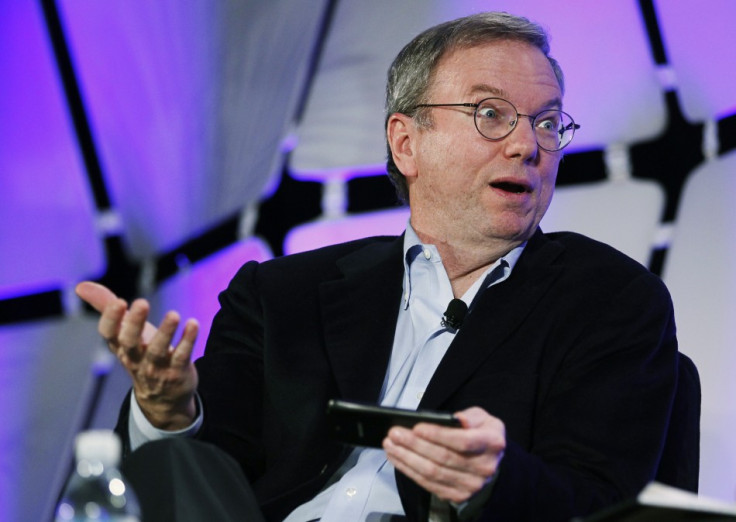 Eric Schmidt, the chairman of Alphabet and former Google chief executive, has been closely involved in the "strategic planning" of the 2016 Democratic Party presidential campaign for at least two years, emails released by whistleblowing outfit WikiLeaks suggest.
A number of emails, which were directly highlighted by the WikiLeaks Twitter account, show how Google has previously loaned a company jet to the Democratic Party for an official trip to Africa and how Schmidt himself wanted to be "head outside advisor" to any future presidential candidate.
In an email sent to Hillary Clinton aide Cheryl Mills on 15 April 2014, Schmidt included a detailed draft plan on how the Democratic candidate should structure their campaign, where it should be based and how technology should be utilised for maximum effect.
It was sent directly to Robby Mook, who now serves as Hillary Clinton's campaign chief, and was later sent to John Podesta, whose emails were leaked online by the Julian Assange-led anti-secrecy group. At the time of writing, over 30,000 messages have been published.
"Here are some comments and observations based on what we saw in the 2012 campaign," Schmidt wrote, adding: "If we get started soon, we will be in a very strong position to execute well for 2016."
Despite the assertions of WikiLeaks and some media reports, the email in question contains no direct reference to Hillary Clinton.
It does, however, contain a point-by-point technology-driven plan to create voter profiles and cutting-edge election systems. "[The] key is the development of a single record for a voter that aggregates all that is known about them," he wrote.
The email continued: "In 2016 smart phones will be used to identify, meet, and update profiles on the voter. A dynamic volunteer can easily speak with a voter and, with their email or other digital handle, get the voter videos and other answers to areas they care about.
"Quite a bit of software is to be developed to match digital identities with the actual voter file with high confidence. The key unit of the campaign is a 'voter', and each and every record is viewable and updatable by volunteers in search of more accurate information."
The former Google businessman also suggested the Democratic Party should "build tools that measure the rate and spread of stories and rumours and model how it works and who has the biggest impact." Staffers, he said, could then "connect polling into this in some way."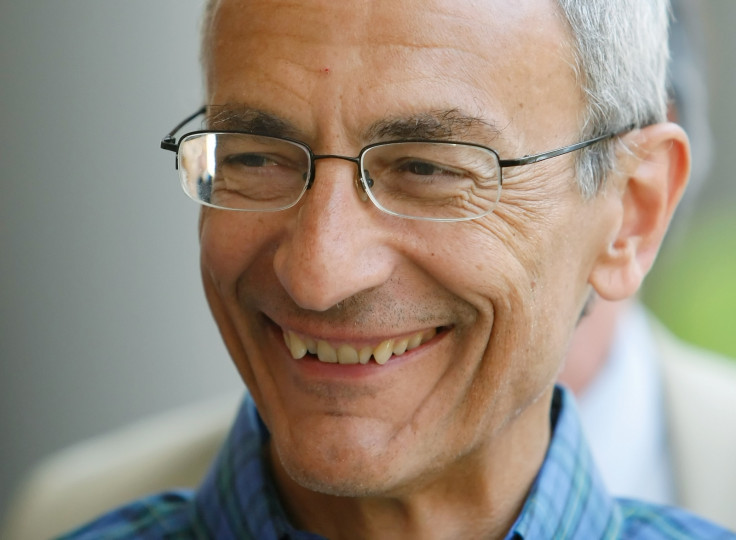 Pictured: Hacked Democratic Party aid John Podesta
Getty Images
On the location of the campaign, Schmidt said the headquarters should not be based in Washington as it is "full of distractions and interruptions" and that it's "important to have a very large hiring pool from which to choose enthusiastic, smart and low paid permanent employees."
In a separate email, dated 2 April 2014 and again publicised by the WikiLeaks Twitter account, John Podesta tells Mook about a meeting he had with Schmidt. "He's ready to fund, advise, recruit talent, etc," the message stated.
He continued: "He was more deferential on structure than I expected. Wasn't pushing to run through one of his existing firms. Clearly wants to be head outside advisor, but didn't seem like he wanted to push others out."
According to Quartz, at the time when Podesta and Schmidt met, Clinton's close staffers were beginning to talk about "how her online infrastructure could seamlessly move from an exploratory committee to a full-fledged campaign."
In the past, Schmidt has donated to both the Democrat and Republican parties and according to CBS gave $20,000 to the National Republican Senatorial Committee in 2009 and 2010. Earlier this year, he was appointed chair of a US Department of Defense Innovation Advisory Board and has aided a start-up called The Groundwork that has been used to help fund Hillary Clinton's 2016 campaign.
Back in 2014, according to The Hill, Schmidt denied that he wanted to work in a Clinton administration. "We are better off trying to make America a better place from the private sector, from the education, in my opinion," he said at the time.
Meanwhile, Julian Assange, the founder and face of WikiLeaks, previously claimed the relationship between the US government and Google had a nefarious side. "Google is heavily integrated with Washington power, at personal level and at business level," he said at a conference this year.
"Google which has increasing control over the distribution channels [...] is intensely allying itself with the US exceptionalism," he claimed.
© Copyright IBTimes 2023. All rights reserved.