Eric Garner's daughter slams Clinton campaign over WikiLeaks emails about her father
Eric Garner had died in 2014 after New York police put him in a chokehold.
The daughter of Eric Garner, an unarmed American black man who died at the hands of police in 2014 when he was put in a chokehold, has slammed Hillary Clinton's campaign over recently published internal emails by WikiLeaks that mention her and her father. The emails from March 2016, exchanged between several Clinton staffers, discussed a draft of a Clinton op-ed on gun violence that was eventually published in the New York Daily News.
"I know we have Erica Garner issues but we don't want to mention Eric at all? I can see her coming after us for leaving him out of the piece," Clinton's travelling press secretary Nick Merrill wrote in the email.
Eric Garner died in 2014 as New York police put him in a chokehold after attempting to arrest him. Eric was accused of selling untaxed cigarettes on Staten Island. "I can't breathe," were the 43-year-old's last words.
The Clinton campaign eventually decided not to mention Eric Garner in the editorial. In one email, Maya Harris, a senior policy adviser to Clinton wrote, "Eric Garner not included because not killed by gun violence." Merrill responded saying, "That's a pretty good point."
In a series of tweets, Erica Garner slammed the Democratic presidential candidate and her campaign, questioning why the Clinton camp would want to "use" her dad as a political prop in a discussion on gun violence.
"I'm troubled by the revelation that you and this campaign actually discussed 'using' Eric Garner ... Why would you want to 'use' my dad?" Garner tweeted, including a link to emails released by WikiLeaks. "These people will co opt anything to push their agenda. Police violence is not the same as gun violence."
In February, Erica Garner endorsed Clinton's Democratic primary rival Bernie Sanders and appeared in campaign ads for him as well.
Garner's death sparked hundreds of protests across the country against racial injustice. Earlier this week, US Attorney General Loretta Lynch announced that she was appointing Justice Department investigators to take over the civil rights probe of Garner's death.
Although the death was ruled as a homicide, NYPD officer Daniel Panteleo, who used a banned chokehold to take down Garner, was cleared of all charges by a grand jury in Staten Island two years ago. Previous FBI agents and prosecutors said earlier this year they did not see enough to charge Pantaleo with a civil rights crime.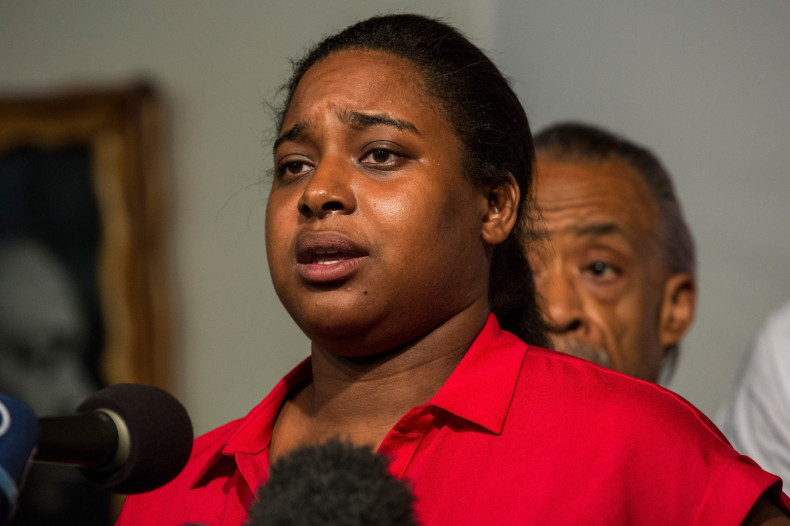 Garner's family reached a settlement with New York City in July 2015 of $5.9m (£4.8m).
The latest revelation comes as part of the daily release of emails by whistle-blowing outfit WikiLeaks from Clinton's campaign chairman John Podesta's personal account, exposing the inner workings of Hillary Clinton's campaign. The Clinton campaign has yet to verify or confirm the authenticity of the emails.
The campaign has blamed Russia for the leaks, accusing Russian President Vladimir Putin of attempting to sway the outcome of the election in favour of her Republican opponent Donald Trump. Earlier this month, Washington formally accused the Russian government of "interfering" in the upcoming presidential election through cyberattacks targeting the Democratic National Committee and other political organizations.
Putin denied the allegations and accused the US of drumming up "hysteria." He added that cyberattacks or any other types of interference in the internal affairs of other countries were intolerable.