In a new batch of emails released by Wikileaks one shows a CNN contributor may have passed Hillary Clinton a number of questions before a televised town hall in early 2016.
The email from former CNN contributor Donna Brazile bears the subject line "Re: From time to time I get the questions in advance." It is dated 12 March, 2016.
It was sent a day before the CNN-TV ONE Ohio Democratic Presidential Town Hall on 13 March.
The town hall was meant to be a "closing statement" for Clinton and her Democratic primary rival Bernie Sanders before "Super Tuesday" primary votes in Florida, Illinois, Missouri, North Carolina and Ohio. It was moderated by the managing editor of TV ONE, Roland Martin.
"I'll send a few more. Though some questions Roland submitted," Brazile wrote in the newly released email to Clinton campaign Director of Communications Jennifer Palmieri.
It is not clear whether Sanders' campaign received any questions as well. But the Democrat has been campaigning for Clinton since she won the Democratic nomination in July.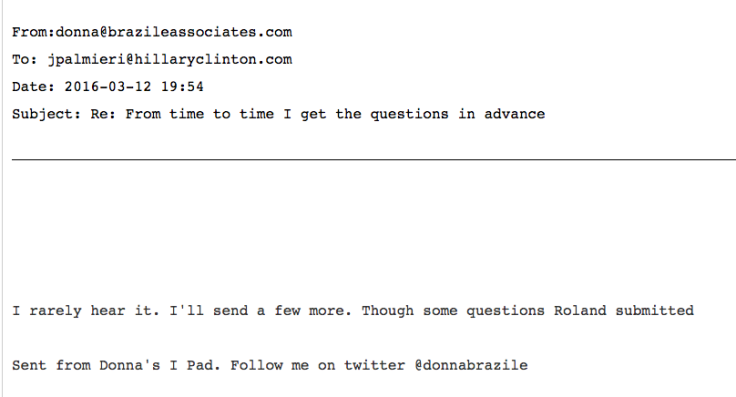 A town hall typically involves a moderator, or audience members, asking questions and each candidate responding. It is not the same format as a debate where the candidates are asked to respond to each other. News One invited its audience to write in questions so the moderator could ask them.
Brazile's resignation as a CNN contributor was announced Monday after the email was published. But she officially resigned from her role at CNN earlier in the month. She is now the Interim chair of the Democratic National Committee.
CNN issued a statement saying it was "completely uncomfortable with what we have learned about [Brazile's] interactions with the Clinton campaign while she was a CNN contributor." The network insisted that it never gave Brazile access to questions.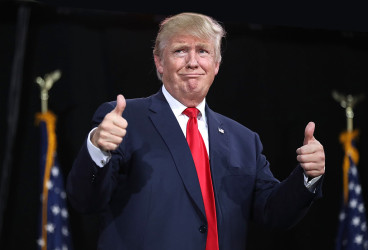 "Getting the questions to the debate. That's a big deal," said Donald Trump at a rally in Michigan Monday. "Why didn't she say that she had the questions to the debate?" he asked, insisting that it was unethical to not bring it to the attention of the moderator.
Brazile resigned on October 14, a few days after Wikileaks released an earlier message in the email chain. Moderator Roland Martin did not deny sharing information with Brazile and has said said his "questions were shared with my executive producer and several members of my TV One team."
Twenty days after releasing the first email Wikileaks released this latest one, which had originally been sent only 13 minutes after the first.
Trump suggested that Clinton had "used the questions now on numerous occasions" without pointing to any evidence.