Julian Assange, the founder of whistleblowing website WikiLeaks, has released the 19-page testimony he read out during an interview with Swedish prosecutors last month. It provides a detailed summary of events, from his point of view, of the rape allegations made against him.
In his official statement to authorities, Assange maintained he was "entirely innocent" of sexual misconduct and blasted the prosecutors for what he branded "cruel, inhuman and degrading" treatment. To date, the WikiLeaks founder has not been formally charged with any crime.
The sexual assault allegations stem from August 2010, when Assange travelled to Sweden to give a lecture about WikiLeaks' disclosures. In his testimony, he said he had "consensual sexual intercourse on several occasions" with a woman, known as SW, on 16 August 2010.
The WikiLeaks founder, who has been living in the Ecuadorian embassy in London under political asylum since 2012, said it was clear that SW's "behaviour" on the night had "made it clear that she actively and enthusiastically" wanted him to have sex with her.
The transcript shows Assange claiming he "could not believe his eyes" when he later saw a headline in a Swedish newspaper that he was suspected of rape. Initially, on 25 August 2010, a preliminary investigation was dropped, and Assange said he then thought his life could "return to normal".
"A week later, I learned to my surprise that a different prosecutor by the name of Marianne Ny had reopened the preliminary investigation without any consultation or opportunity for me to be heard," he said, adding this was also when he first learned an extradition warrant had been issued against him.
Much of the testimony is dedicated to berating the Swedish authorities, with Assange saying delays in his case were "caused by the prosecutor who re-opened the closed preliminary investigation". He added: "Over the past six years I have continued to call for this prosecutor to accept my statement."
The testimony also contains a number of text messages that "SW" allegedly sent to her friends during the course of the evening that Assange was staying at her home, which the Swedish police reportedly retrieved from her phone. The messages were obtained by Assange's legal team.
One of the texts, if legitimate, appears to show SW saying she "did not want to put any charges on Julian Assange", but that "the police were keen on getting their hands on him". In another text sent on 21 August, SW wrote how "it was the police who made up the charges (sic)".
"Although the prosecutor has fought for years to prevent me, the public and the courts from seeing them, my lawyers were permitted to see them at the police station and were able to note down a number of them," Assange stated in the testimony.
When the Swedish prosecutors visited London to take a statement, on 14 November, it was claimed that proceedings would remain private. "As the investigation is ongoing, it is subject to confidentiality," said a Swedish Prosecution Authority (SPA) spokesperson at the time.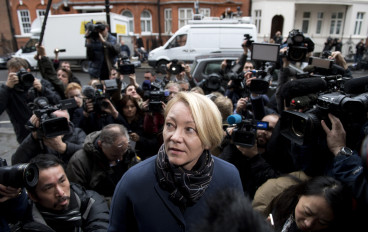 It appears that Assange, whose organisation has been publishing government secrets for well over a decade, didn't get that memo. His testimony makes clear that he suspected the questioning was "simply a ruse" to "tick a box", to ensure the indictment could now go ahead.
Speaking to Swedish broadcaster SVT, as reported by the Guardian, Elisabeth Massi Fritz, the lawyer for Assange's accuser, claimed Assange was "violating" her client in the media by releasing the statement into the public domain.
She said: "The only thing I can say is that Assange has low credibility, which we will prove when we prosecute. I expect the prosecutor to issue charges. I also expect Assange to stop violating my client in the media. She has suffered more than enough for six years."
However, in a cover letter alongside the testimony, Assange stressed his reason for releasing the statement was so show people "the truth about how abusive this process has been".
He wrote: "In the past the prosecution has fed partial information to tabloids that politically oppose me. It is better that my statement, which I am happy with, and which makes it obvious to all that I am innocent, sees the light in full."