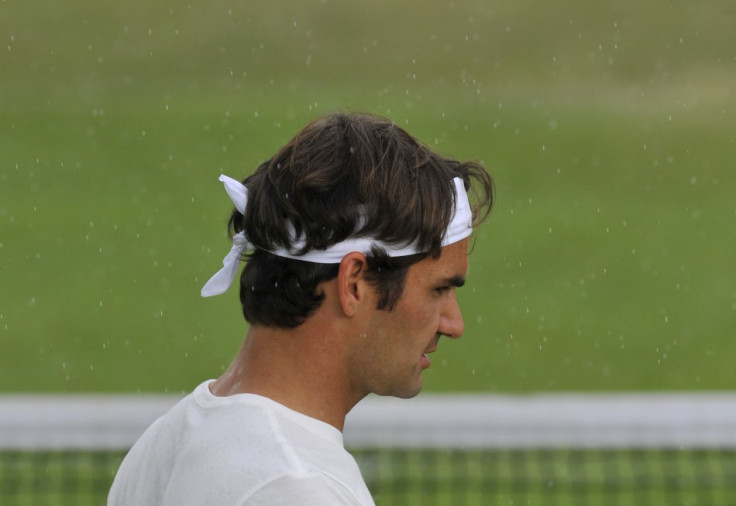 Afternoon folks. The wind is blowing but the sun is out, just, and we should see some action in SW19 this afternoon. Roger Federer is in action against Mikhail Kukushkin on Centre Court in a little under half an hour. Follow the live coverage below:
(*denotes server)
*Federer 7-6 6-4 6-2 Kukushkin
Simple as you like, Fed holds to love to ease into the second round.
Federer 7-6 6-4 5-2 Kukushkin*
Impressive from Kuku as he holds to make Federer serve for the match. Hard to stomach Fed being referred to as 'the old genius' when he's not 30 until August.
*Federer 7-6 6-4 5-1 Kukushkin
Kuku heading for a first-round exit as Fed correctly overrules a line-call on Hawk Eye to hold.
Federer 7-6 6-4 4-1 Kukushkin*
A cheeky drop-shot winner gives Federer the double-break and this is heading towards a swift conclusion.
*Federer 7-6 6-4 3-1 Kukushkin
Federer's sevice game is over before I can finish typing up the last, it sounded good though.
Federer 7-6 6-4 2-1 Kukushkin*
Kukushkin has hardly disgraced himself out there but few players can stop Federer when he's in this sort of form. Effortless tennis from the number three to seal the break.
*Federer 7-6 6-4 1-1 Kukushkin
39 winners, only 17 unforced errors from Federer. Tells its own story really. Both players exchanging serve like a particularly hot spud out there.
Federer 7-6 6-4 0-1 Kukushkin*
Kuku holds his serve but surely the match is beyond him now?
*Federer 7-6 6-4 Kukushkin
As simple as you like, Fed holds to love to seal the second set.
Federer 7-6 5-4 Kukushkin*
Kuku makes sure Fed will have to serve for the set as the Kazakh holds without much ado.
*Federer 7-6 5-3 Kukushkin
Bang, bang, boom. Over in a flash, Fed holds to love.
Federer 7-6 4-3 Kukushkin*
A sense that Fed could ease away from Kuku at any point now. Delicate control from Fed to send a backhand down the line and then he gets one to just die over the net to leave Kuku stranded. The advantage is exchanged back and forth before the Kazakh eventually holds after a limp Fed return.
*Federer 7-6 4-2 Kukushkin
Uncharacteristically sloppy from Fed as he hits two forehands into the net. He's not quite at his imperious best today. Two break points for Kuku but Fed rescues them both before wafting a cross-court slice across Kuku to take the game.
Federer 7-6 3-2 Kukushkin*
Is this the turning point? Fed doesn't pass up the opportunity of two break points and he seals the game after Kuku smacks a forehand into the net
*Federer 7-6 2-2 Kukushkin
Ace number seven followed by two unplayable serves before a casual volley gives Kuku his first point off the Fed serve this set. A wonderful forehand leaves Fed stranded and Kuku thinks he's rescued deuce with a delicate drop but Federer produces a gorgeous forehand down the line to seal the game.
Federer 7-6 1-2 Kukushkin*
Everything seems to drop for Kuku on his serve, a perfectly weighted cross-court drop leaves Fed scrambling, the crowd like that. A little bit darker now out on Centre Court, 50% chance of rain this afternoon, apparently.
*Federer 7-6 0-1 Kukushkin
Still no answer to those booming Fed serves, his sixth ace sets the game up nicely before a deft volley slices Kuku in half for another solid hold from the Swiss.
Federer 0-1 Kukushkin*
The second best player in Kazakhstan holds his serve at the start of the second.
Federer 7-6 Kukushkin (6-2)
The breaker proceeds much like the set that preceded it. Neither player able to break the other until Kuku's drawn into trading shots with Fed to lose the break. Double break next up as the Kazakh misjudges a return and Fed seals the tie-break with two booming aces.
Federer 6-6 Kukushkin*
Some nifty footwork from Fed as he looks to impose himself of Kuku's serve. A booming forehand up the line gives Kuku the advantage before Fed hits another forehand long -- quick look at the racket, it's not that Rog -- before Kukushkin seals the game with a lovely cross-court winner to take us into a tie-break.
*Federer 6-5 Kukushkin
Fed barely breaks sweat to hold serve.
Federer 5-5 Kukushkin*
Very impressive hold from Kuku who is not fazed one iota out there.
*Federer 5-4 Kukushkin
Fed loses the first point on his serve today, and it's a double fault. Kuku just doesn't have an answer to that serve. The Kazakh will serve to stay in the set.
Federer 4-4 Kukushkin*
Points breezing by in an instant out there, neither player looks entirely comfortable with conditions out there. Two Fed shots fly past the baseline, he'd have made those a couple of years ago.
*Federer 4-3 Kukushkin
Not much chance on the Federer serve for Kuku. A dreamy one-two punch at 15-0 sees Fed through and he holds once again to love.
Federer 3-3 Kukushkin*
A hint of wind swirling around the court as a couple of rare unforced errors from Fed sees Kuku race to a 40-0 lead, which he converts to love. Nerves, what nerves?
*Federer 3-2 Kukushkin
Ace number three from Fed, as the number three seed holds to love again. Centre Court filling up nicely, the sun is shining, proper Wimbledon weather over in SW19.
Federer 2-2 Kukushkin*
Kuku is very inexperienced on grass, he made his Tour-level debut just last month, according to the BBC. But he's not showing it here. Some rusty Fed forehands ensures the Kazakh holds.
*Federer 2-1 Kukushkin
Some earlier signs of the Swiss player's repertoire with an inside-out backhand and an athletic smash. Fed yet to drop a point on his serve.
Federer 1-1 Kukushkin*
The young Kazakh registers his first points after a rare Fed miss-hit and a volley that wrong-foots the Swiss. A woefully over-hit smash gifts Fed his first break point which Kukushkin rescues. Bat-bat-bat and Fed over-hits a backhand and Kukushkin holds.
*Federer 1-0 Kukushkin
In less than a minute, Federer holds his serve to love. Emphatic arrival from the world No.3