Windows 8 is set to be the biggest change to Microsoft's computer operating system since Windows 95 some 17 years ago, and now customers can download a trial for free.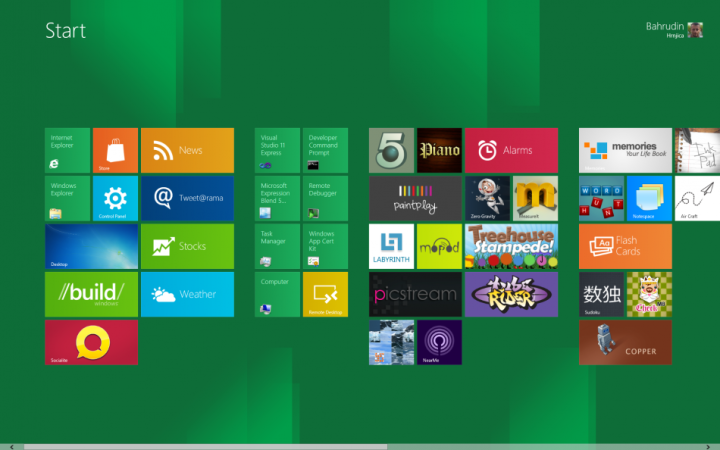 Starting from 31 May, Windows users can download a free trial of Windows 8 called the Release Preview, following in the footsteps of Microsoft's Developer Preview, which was released earlier this year.
First, customers need to download Microsoft's Windows 8 Release Preview Setup, which is a small application that runs on your computer and determines which version of Windows 8 you require.
Alternatively, you can download Windows 8 without the need for Microsoft's Setup assistant here, so it can be loaded onto a USB stick or DVD and installed from there.
The English versions of Windows 8 are linked to below:
Windows 8 English 64-bit (3.2GB)
Windows 8 English 32-bit (2.5GB)
Microsoft said: "Windows 8 Release Preview is a pre-release version of Windows 8 that focuses on people and apps and gives you powerful new ways to use social technologies to connect with the people who are important to you. It's Windows reimagined."
Adding: "Here's your chance to be one of the first to try it out. Similar to Consumer Preview, we'll be using information from Release Preview users to make the final product even better."
While the Windows 8 preview is available to everyone, Microsoft recommends that only "experienced PC users" install it, as it is not yet a finished product and admits that there are risks involved.
The company explains: "Windows 8 Release Preview is stable and has been thoroughly tested, but it's not the finished product. Your PC could crash and you could lose important files. You should back up your data and you shouldn't test Windows 8 Release Preview on your primary home or business PC."
While installing the Windows 8 preview gives you the chance to sample Microsoft's latest and greatest before it hits the shops, we urge readers to remember that it is not finished and should not be used on a computer you reply on for work or storing important files.
The system requirements for running Windows 8 are as follows:
Processor: 1GHz or faster
RAM: 1GB for the 32-bit version, 2GB if you want to run Windows 8 in 64-bit
Hard disk space: you'll need 16GB for the 32-bit version and 20GB for the 64-bit
Graphics card: Microsoft DirectX9 device with WDDM driver
To make use of Windows 8's touch interface then you will need a tablet or monitor that supports touch input.
To download and run apps from the Windows Store you will need a screen resolution of at least 1,024 x 768 and to 'snap' apps to the sides of your screen you'll need a resolution of 1,366 x 768 or higher.
If you install Windows 8 using the Setup tool - available here - then a product key is not required, but if you install the operating system from a USB stick or DVD then the product key is: TK8TP-9JN6P-7X7WW-RFFTV-B7QPF.
Finally, this preview of Windows 8 will expire before the retail version goes on sale, so if you want to continue using the OS after then, you will have to purchase it, although pricing has not yet been announced.
Must read: