Microsoft has announced that there will be three versions of the upcoming Windows 8 operating system when it goes on sale later this year.
In a blog post on its Windows Blog, Microsoft revealed that customers will be able to purchase either Windows 8 or Windows 8 Pro, with the former being recommended for most users, while the latter includes more features for "tech enthusiasts and business/technical professionals."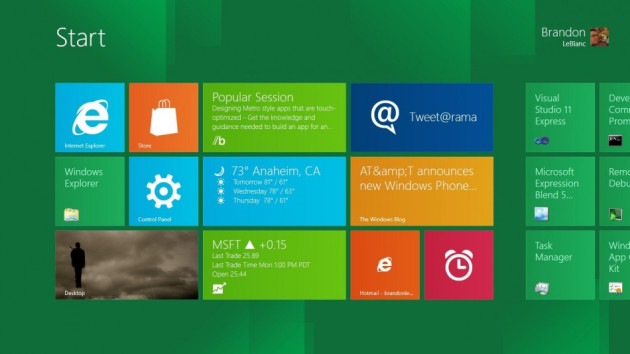 Both Windows 8 and 8 Pro will come in 32-bit and 64-bit versions for for PCs and tablets based on the x86 processors from the likes of Intel and AMD.
There will also be a touch-optimised version called Windows RT or Runtime - formerly known as Windows on ARM or WOA - and will come pre installed on PCs and tablets powered by ARM processors.
Windows RT will be the only version to come with Office pre-installed - including touch-optimised desktop versions of Word, Excel, PowerPoint and OneNote, but RT misses out on Windows Media Centre and Windows 7 users cannot upgrade to RT.
The Runtime version of Windows 8 will "help enable new thin and lightweight form factors with impressive battery life," suggesting that it is optimised for ultrabooks and tablets.
Microsoft has stated that, while Media Centre will be available for 8 and 8 Pro, it "will be available as an economical 'media-pack' add-on to Windows 8 Pro," suggesting that it will not be included on the disc, and will instead be available online.
Device encryption is also unique to Windows RT, while Windows 8 Pro is the only version to get BitLocker and BitLocker To Go, features for encryption, virtualisation, PC management and domain connectivity - Microsoft added that the current feature list is by no means complete.
There will also be editions of Windows 8 specifically for enterprise customers with Software Assurance agreements and Windows 8 Enterprise includes all features from 8 Pro, plus features that enable PC management and deployment, advanced security, virtualisation, and new mobility scenarios.
As for upgrading to Windows 8, users who are currently using Windows 7 Starter, Home Basic and Home Premium will be able to upgrade to Windows 8 and 8 Pro; users of Windows 7 Professional and Ultimate can upgrade to Windows 8 Pro.
Finally, Microsoft will offer local language-only editions of Windows 8 for China and a small set of emerging markets.
Microsoft adds: "In the coming months, we plan to share much more information about Windows 8, including details on pricing and limited-time programmes and promotions that we will make available to customers."