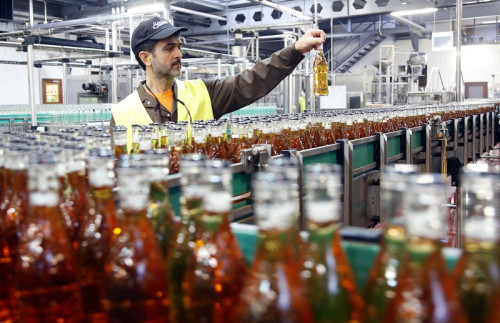 Workers at the Gaymer Cider Company in the West Country have dropped the threat of industrial action after their trade union secured a last minute pay rise, IBTimes UK has learned.
The employees were due to be balloted for a strike after they claimed they had not had a pay rise since 2010, when the production centre was taken over by the C&C Group in a multi-million pound deal.
C&C did offer the workers a 3% pay raise for 2012/13, but it was made conditional to a wage freeze in future years.
Unite said the workers did not accept the offer and the pay rise was subsequently "taken off the table" by the employer.
In addition, production workers were furious that office workers at the firm were awarded a 3% pay increase, which they had enjoyed for the past 18 months, according to the union.
These moves led to the union balloting more than 100 production workers at the plant about a strike or taking industrial action short of a strike.
But now, after last minute talks, C&C have offered the workers a 3% backdated pay rise for 2012/13, and 0% for 2013. They have also said they are not going to set any preconditions on future industrial negotiations.
The workers accepted the offer on early Friday morning.
"It was frustrating the company handled the dispute in such a provocative way," Hugh Kirkbride, a regional officer at Unite, told IBTimes UK.
He added: "The fact they had withdrawn the offer on the table precipitated the industrial action. But it could have all been achieved without going to the length of an industrial action ballot."
Gaymer makes Original, Olde English, Blackthorn and Diamond White ciders.
C&C recently completed the £190m acquisition of the Vermont Hard Cider Company which makes Woodchuck in America.
Deb Kennedy, head of manufacturing and technical, C&C Group, said: "We are clearly very pleased that common sense has won the day and that the possibility of industrial action at Shepton Mallet Cider Mill has been averted."