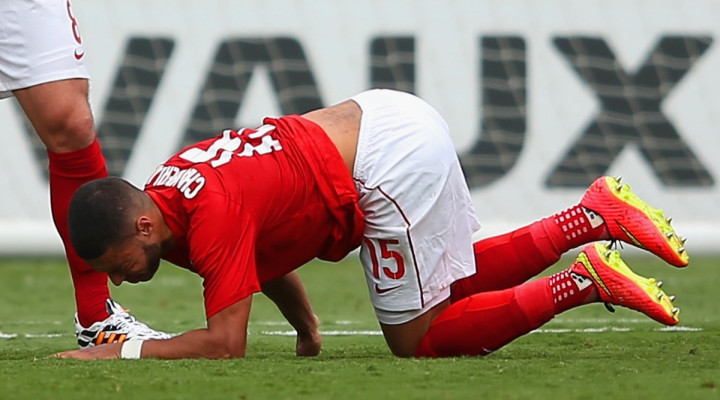 England and Arsenal winger Alex Oxlade-Chamberlain will undergo a scan on a knee injury suffered in the 2-2 draw against Ecuador which threatens to rule him out of the World Cup finals in Brazil.
Oxlade-Chamberlain went off in the second half of the warm-up draw in Miami after falling awkwardly following an off-the-ball kick from Ecuador's Carlos Gruezo.
Manager Roy Hodgson fears Oxlade-Chamberlain – who impressed during England's penultimate friendly before the World Cup – will miss the tournament will ligament damage but awaits the full results of a scan on Thursday before ruling out the Arsenal youngster.
"It's obviously too close to the incident but we did see that his knee buckled when the player tumbled into him and we have our fears there may be some ligament damage but we won't know until he has a scan," Hodgson said.
"It would be an enormous blow if we were to lose him. He did ever so well and looked really, really sharp. At the moment, he doesn't know how to feel because he doesn't know how serious the injury is."
The 19 year old was making his first appearance for over six weeks after missing the end of Arsenal's domestic campaign and the FA Cup final but a new blow is set to end his summer prematurely.
Amid a raft of second half changes at the Sun Life Stadium, both Jack Wilshere and Luke Shaw, making his first England start, limped off but Hodgson revealed following the game the pair had suffered from cramp.
Raheem Sterling was another casualty after a late red card following a challenge on Antonio Valencia, who was dismissed himself after raising an arm to the Liverpool winger, and the 19 year old will miss the final warm-up match against Honduras this weekend.
"I'm disappointed," Hodgson added. "I thought it was a fierce challenge from young Raheem, not a foul challenge. He played the ball and accelerated into the ball.
"I'm disappointed with Antonio's reaction, grabbing the player. Had he not jumped up there wouldn't have been a problem but, when he does that, the referee had to deal with that and sent Raheem off. I'm pleased Raheem didn't react to a lot of people milling around him.
"Jack [Wilshere] had been on the receiving end a few minutes early from a very similar challenge from an Ecuadorian player and did not react."