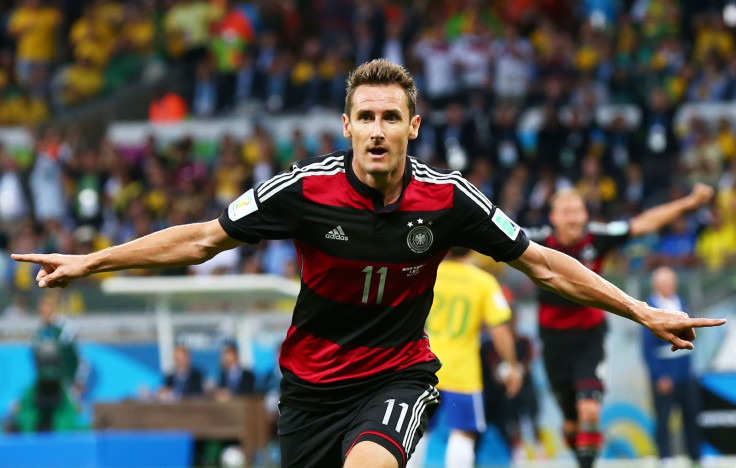 Miroslav Klose, the top scorer in World Cup history, has ended his playing career and joined Joachim Low's coaching staff with the German national team. The 38-year-old striker has not played a competitive match since leaving Lazio at the end of last season and has now decided to pursue his ambition of becoming a coach.
Klose won the World Cup with Germany in 2014 and is also the top scorer of all time for his country. Remarkably, Germany never lost a game in which Klose scored.
The record-breaking striker, who netted 71 goals in 137 games for the national team, revealed he was excited by the prospect of gaining his coaching Pro Licence and working for the German football association (DFB).
"I celebrated my greatest successes in the national team and this was a wonderful time which remains unforgettable," he said, according to The Guardian.
"That is why I'm delighted to return to the DFB. In the past few months, I have thought a lot about continuing my playing career, but also about looking at new avenues, namely becoming a coach.
"Reading a game, preparing painstakingly, developing strategies and tactics have always intrigued me and interested me a lot as a player. I am very grateful to Jogi Löw and Hansi Flick for this opportunity to sharpen my ideas now in practice."
Low, meanwhile, revealed he was looking forward to working alongside Klose, who also played for Kaiserslautern, Werder Bremen and Bayern Munich during his career. "I've always been able to rely on Miro and that's why I'm really pleased that he is now going to be part of our team," Low explained. "He's a role model as a person and a sportsman who always puts everything else after the team and success.
"With his views and his experience, I can see him very well as a coach in the future and we are happy to support him along the way with the DFB. I am sure that we the coaches are going to benefit as much from his presence here as we did when he was a player. We're looking forward to working with Miro."