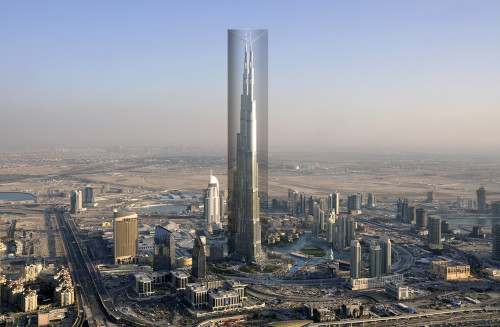 At 2,716 feet and six inches tall, you'd imagine Dubai's Burj Khalifa building was conspicuous enough already. However, designers now want to wrap the 160-storey block in reflective cling-film to "complement" its reflective facade as part of a project called "Exo-Burj".
Designers from "Op-En", a "Dubai-based interdisciplinary creative practice and think tank", wants to wrap the Burj in semi-transparent material as part of an art installation which would "amplify the visual perspectives of the city's skyline, augment the tower's symbol as an urban centre of gravity and create an artistic atmosphere on a vast architectural scale."
The material would be suspended from a fan-like structure at the top of the tower, and visitors would "not only be able to view the temporary installation from a distance—which would reflect the tower and its surroundings—but also walk up-close and experience the installation first-hand." Op-En is in talks with interested parties about the idea.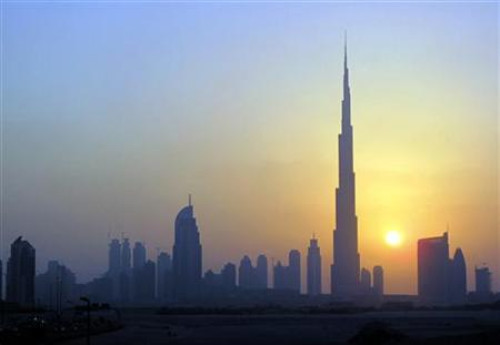 Construction of the Burj began in January 2004 and the combined office and residential block became the world's tallest in July 2007 when level 141 was reached. The spire was completed in January 2009. The Burj is not only the world's tallest building but holds a number of other records including tallest free-standing structure and having the most storeys of any building.
Whether residents of the Burj will be happy to have their iconic tower wrapped in cling-film is unclear, but many of them are already unhappy with the tower's owners Emaar Properties over service charges. Having already locked out some tenants from using communal areas such as tennis courts and garages, the owners have now threatened to make some residents who are in arrears climb as many as 2,900 stairs until they pay up.
How long the Burj will remain the tallest structure in the world is unclear. China has announced plans to construct "Sky City", a 2,749ft building in Changsha, and a so-called "Kingdom Tower" of 3281ft (1,000m) is also on the drawing board in Jeddah, Saudi Arabia.