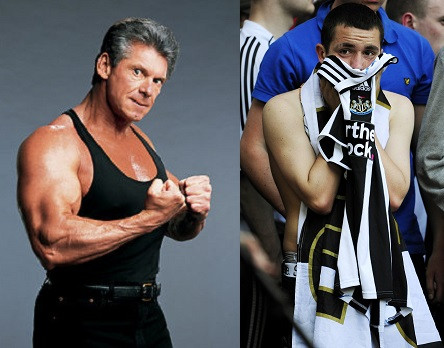 Few stories could be more perfect for the age of social media, where nothing is sacred and everything is ripe for photoshopping, than the rumour that wrestling impresario Vince McMahon is interested in buying Newcastle United. Within hours of the story breaking, a profusion of gifs, memes and online jokebooks had sprung up, envisioning all manner of scenarios from Hulk Hogan playing centre-forward to a harem of the WWE's pneumatic blonde valets patrolling the technical area.
At present, it's difficult to know whether the rumours are true. The source of the report, Winner Sports, isn't exactly renowned for its football coverage, and the article claims McMahon is merely considering a bid, rather than actively preparing one. Mike Ashley is thought to be keen to sell, but, for the sake of his personal reputation, he may wish to offload the club to someone with a richer football pedigree. And it's not hard to imagine resistance from older fans, weened on the earthy virtues of Malcolm McDonald and Micky Quinn, to the idea of the club being flogged to a man whose wrestling empire has brought us midget clowns, lingerie pillow fights and allegations of institutional steroid abuse.
But one can certainly see the attraction of the modern Newcastle to McMahon, reportedly a keen football fan who maintains an avid interest in the Premier League. Indeed, given his obvious love of slapstick tragi-comedy and pulp drama, it's hard to think of a more appropriate place for McMahon to build his football empire than St James's Park.
Newcastle may not be the most successful club in the Premier League, yet there are few stronger or more distinctive brands. Dozens of starry-eyed, arriviste benefactors have proven that you can buy a modicum of on-field success, if you're prepared to invest the odd hundred million or two. Yet it's far harder to build the sort of customer loyalty that sees 60,000 fans turn up every week with a quasi-religious zeal, all bedecked in £50 replica shirts. Newcastle's magnetic appeal has cultivated myriad commercially fertile shibboleths: the Toon Army, the Gallowgate, the Number 9. One can imagine the trademark signs spinning in McMahon's eyes.
Those fans have been written into Sky's Premier League script, a baying, bare-chested supporting cast whose emotional fluctuations are now integral to their club's wider appeal. Indeed, it's hard to imagine a Newcastle match these days without the sight of a middle-aged, barcode-wearing man crying in an empty stadium. To represent these fans, and anchor the drama, Newcastle's bosses have lured some of football's most iconic characters, including quixotic moustachioed Belgians [Philippe Albert], volcanic South American strikers [Faustino Asprilla] and talented but flaky French playmakers prone to emotional meltdown [innumerable].
In the WWE, McMahon's own talent rosters have featured everything from Iraqi generals burning American flags to a pair of arrogant, cowardly Frenchmen called La Resistance. If he does indeed follow the Premier League, he must love Newcastle's propensity to unearth combustible personalities which reinforce lazy national stereotypes. And how he must relish the drama they concoct; the seven-goal thrillers, the sexual assault allegations, the fights between teammates during matches and the F-bombs dropped by managers in their wake.
Indeed, if one moment sums up Newcastle's contribution to the Premier League, it is that rant by Kevin Keegan towards Alex Ferguson in 1996. Typically, it was delivered on live TV; far be it from Newcastle to handle such a grievance in private, and so deny the public a moment of visceral viewing pleasure. The trash-talking was so raw, so vitriolic, so beautifully choreographed with bulging eyes and pointing finger, any of the WWE's ham actors would have been proud of it.
In recent years Alan Pardew has tried desperately to wean Newcastle off its recidivist inclination towards self-destruction and vainglory. He has offloaded the wayward superstars and bought more prosaic, diligent and down-to-earth replacements. He has even established Newcastle in upper mid-table, the footballing definition of a normal, sustainable club.
Yet, even in this more rational era, the tragi-comedy is never far away: this year we've already seen boardroom power struggles, fans punching horses and the saga of Papiss Cisse and the payday loans shirt sponsor. If McMahon does buy the club, it will be just another chapter in football's most vivid soap opera – fans across the world will be praying it happens.