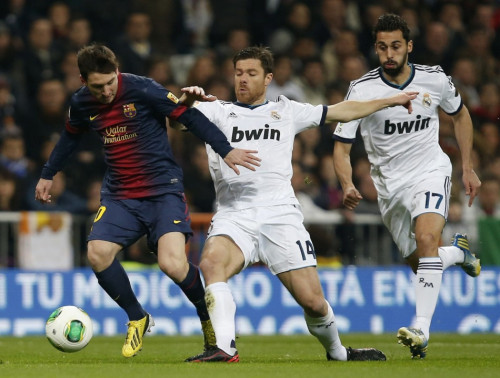 Xabi Alonso has signed a two year extension with Real Madrid amid rumours of a possible return to Liverpool.
The former Reds man transferred from Anfield in 2009 and has since been a fulcrum of the Madrid midfield, winning a La Liga, a Copa Del Rey and a Spanish Super Cup in his brief stay in Spain.
The midfielder has played 204 games for Madrid and will be a major boost for the men in white, who are currently trailing Atletico Madrid and Barcelona in the race for the Spanish title.
The midfielder was linked with a return to Anfield and it as suggested that he may also look to reunite with his former manager Jose Mourinho at Chelsea. However, signing a new contract with the Spanish giants has poured water over any such posibilities, leaving Liverpool and Chelsea to search for other options in the market.
The Reds are currently fourth in the table and Alonso's arrival would have given them some much needed stability in the middle, which has been found wanting against the big teams.
Meanwhile, Jordan Henderson, who is currently working in the holding role for the Reds has taken huge strides and is currently the most improved player in the Liverpool ranks this season.
Simon Mignolet, who signed from Sunderland this summer, insists that the player always had the talent and great things were expected of him even before the Belgian set his foot at Anfield last summer.
"Jordan has always been a very good player. I remember when I was at Sunderland with him; he was still very young at that time, but everybody saw a very good player in him and everybody saw what he was going to do in the future. Everybody saw that he definitely had the talent and that he was going to turn out to be a very good player, even at that age," Mignolet told Liverpoolfc.com.
"He has matured and is getting a bit older now. You can see how good a player he is, he works really hard and the energy he gives to the whole team is something to be very pleased with," he concluded.