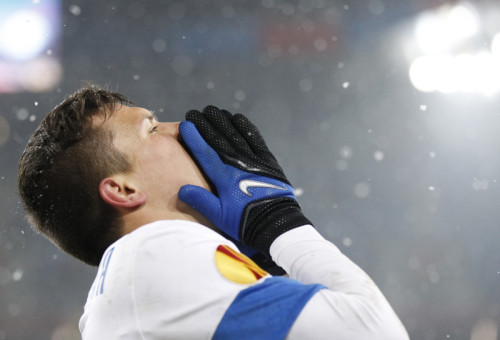 Yevhen Konoplyanka has admitted to feeling some 'resentment' after his proposed move to Liverpool collapsed on transfer deadline day, but insists his focus is now entirely on his side's upcoming meeting with Tottenham Hotspur.
After failing in their pursuit to sign Mohamed Salah, the Reds turned their attention to the Dnipro winger during the final week of the January transfer window as managing director Ian Ayre travelled to Ukraine in order to complete the deal.
An agreement between the two clubs wasn't met however, leaving the Reds with no new additions to their squad for the second half of the season.
The 24-year-old has since revealed his frustration over the failed move, but insists it will not distract him with a Europa League clash with Tim Sherwood's side on the horizon.
When asked by reporters if he was upset after his proposed move to Anfield collapsed, he said: "Not at all upset! Well, I will not hide it, there is a little resentment," Goal.com report.
"But life goes on. I need to treat this like a sleep. I woke up and carried on. I will search for the next dream. I hope that everything will turn out okay."
When asked if the ongoing transfer speculation could possibly affect his performances, he said: "On the contrary! We'll play Tottenham, one of the best teams in the English Premier League. We will go for it. I want to show my best."
Comments made by an agent representing Konoplyanka on transfer deadline day indicated Dnipro were not prepared to sell one of their prized assets ahead of their assault on the knock out stages of the Europa League, a decision which the Ukraine international respected.
But Dnipro's executive director Andriy Rusol has laid the blame for the failed negotiations at the feet of Liverpool, but admitted a move will almost certainly take place in the summer.
"I am a thousand per cent sure that Liverpool will try again in the summer and then we'll let him go," Rusol told the Ukrainian press following the closure of the transfer window.
"Money was not the problem. The problem was that Liverpool came too late. But in the summer everything will be fine. If Liverpool, in the summer, will report to us, Yevhen will still go to this club.
"Igor Kolomoisky (Dnipro owner) gave the go-ahead immediately. It is not our fault, Liverpool representatives could have arrived a day or two earlier.
"Up to the deadline we were waiting for the transfer of money from Liverpool. But this did not happen."