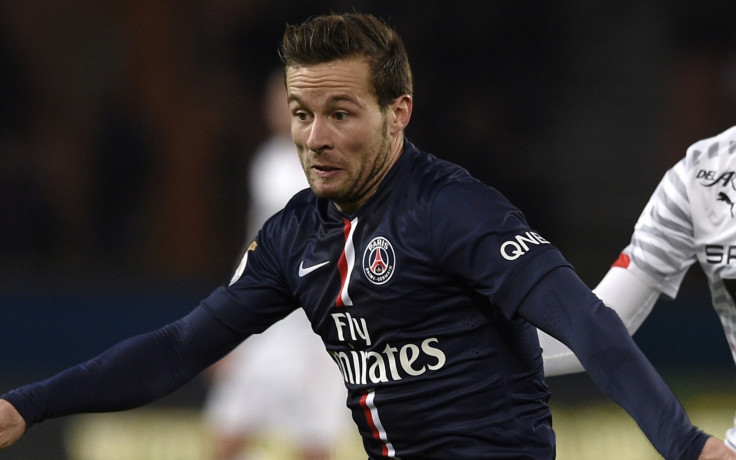 Paris Saint-Germain midfielder Yohan Cabaye has revealed that he will think about his future after the end of the season and whether he will continue to ply his trade in Ligue One after failing to nail down a starting spot with the league leaders.
The former Newcastle man made a big money move to PSG in 2013, spurning interest from Arsenal, who had made a bid for the player. However, the move has not gone down too well for the Frenchman, lagging behind the likes of Marco Verratti and Blaise Matuidi in the race for a midfield spot.
Injuries have not helped his cause, as the player is currently struggling with a knee problem, which has further cast doubts over his situation at the club. However, he is back in full training and should be back for selection this weekend, with the team taking on Marseille in a crucial encounter.
It has been a reality check of sorts for Cabaye, who was the main man in the Newcastle midfield before his transfer, but now finds himself in a bit-part role for PSG. The midfielder was heavily linked with a move to Arsenal, Manchester United and Liverpool in January and an opportunity can arise in the summer for him to resurrect his career, which has taken a downward turn over the past couple of years.
"My future is only about getting back on the pitch. There are important matches to play and an exciting end to the season in store," the 29-year-old told RMC.
"We still have four competitions to play for. After that, there will be time to discuss things but, for now, my priority is to get back in shape.
"Anyway, I have not lost sight of one of my main goals, which is Euro 2016. This will be important and we'll see how it will unfold.
"There are people working for me and I have full trust in them.
"But the important thing is to get back on the field in top condition," he added.