Neymar Sr says his son left Barcelona for Paris Saint-Germain because he did not want to be a substitute for club talisman Lionel Messi.
The 25-year-old completed a world record €222m (£200m, $262m) move to the Ligue 1 side earlier this week on a five-year deal reportedly worth €600,000 (£540,000) per week after tax.
In a move that shocked the football world, some have claimed that the big money contract was a huge factor as to why Neymar would leave arguably the biggest club in the world.
However, his father claims that the Brazilian left the Nou Camp as he did not want to challenge the status of Messi out of respect for his teammate. Along with this, there is also a greater possibility of winning the Ballon d'Or despite the risks that come with a move to Paris.
"Imagine a place where you are the protagonist of a club, where you are the idol of that club and everyone wants to transform you into the star that you do not want to be," Neymar Sr told COPE, as quoted on FourFourTwo.
"Messi is the star and will always be the star. Not only because of the love and respect that Neymar has for Leo, he is his idol. Imagine that everyone said that Neymar has to be Messi's substitute, he does not want to be his substitute. You have to leave Messi, he is the idol at Barcelona.
"Neymar has to make his own way and accept the challenge he has. I think my son has been a man, shown respect [to Messi] and now he has to go his own way. He could go to any club and be in the spotlight, not that he wants to be number one.
"He is taking a risk. Can PSG guarantee him the Ballon d'Or? No. And it is crazy that people believe that. It would be easier at Barca, with the help of that team."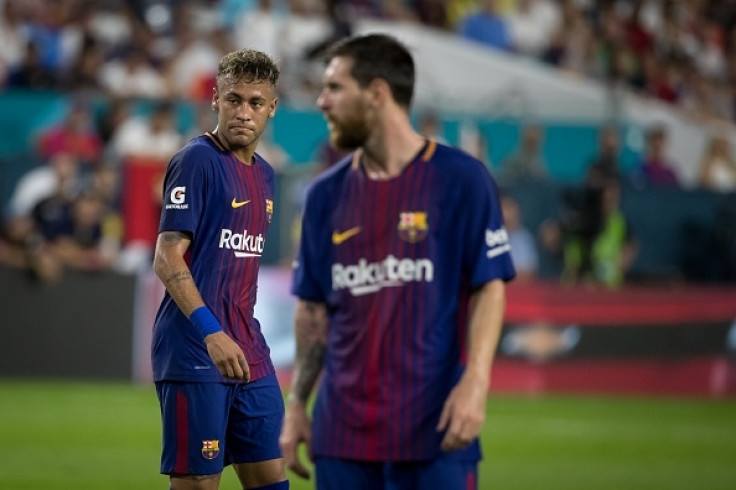 In the build up to the move, there were also reports stating that Neymar Sr was influencing his son's decision to leave Barcelona. However, he claims the decision was no one else's but Neymar's.
"It was his decision," he added. "He was at the club he had dreamt of. He was comfortable, calm, but it was a choice. He listened to the advice of his friends, he listened to the people around him. He wanted to rise to this challenge. He had the right to make that decision. Now he is following his destiny and I think he has had a lot of courage."
"I think he wanted to change his destiny, but I cannot summarise [the reasons]. Several feelings led to his view that he had to make that change. We waited for the right moment, with enough time to have the peace of mind to choose.
"We had that time and when he came back from China, he made the decision and we will respect and support him. We communicated his exit to the club and we asked Paris to pay his release clause.
"He was proud of everything he did with Barca and left through the front door. People forget how things have gone."
Neymar was not registered in time for PSG's opening Ligue 1 game against Amiens where the Parisians came out on top with a 2-0 win.
The former Santos forward is expected to make his debut in the club's away trip to Guingamp next week.