YouTube legend KSI reveals the secret to his success – budding vloggers take note
The-23-year-old's channel is Britain's second-most subscribed.
In recent years, YouTubers have carved out a lane of their own, signalling the rise of a new type of celebrity: raw, unscripted and authentic. One person than cashed in early on the growing phenomenon was KSI, an outspoken avid gamer who started out by posting clips of himself playing Fifa in 2009.
With almost 15million subscribers (that's larger than the population of Sweden by the way), the 23-year-old – real name Olajide Olutunde – knows first-hand the level of dedication required to do YouTube well.
Speaking to IBTimes UK, he says the secret to his success is that he never considered it "work" and was pushed by his passion. "I was always driven to try and make content people would enjoy or laugh at or be entertained at – that was my main goal," he explains. "I never really cared about the money. Obviously the views were important just to see how well I was doing. If my views were increasing I knew I was doing the right thing."
The Watford-born online personality resents the notion that YouTube is 'easy'. "It's actually a lot of effort and work to do this YouTube stuff. If I was to compare it to a movie, its like being a director, editor, camera man, actor producer, all of these things in one, and then I put stuff out and wait for an audience to watch it and hopefully enjoy it."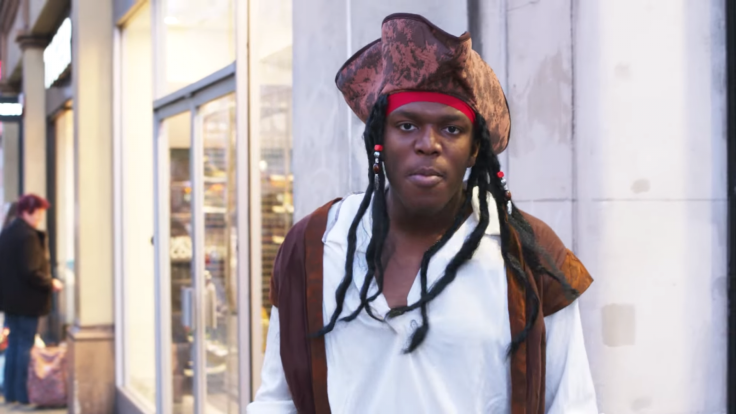 His YouTube success was the springboard he needed to create a brand which can now rival even the biggest names in celebsville. He debut feature film - Laid in America – was released earlier this year and he recently unveiled the music video to his new single, Jump Around, featuring Waka Flacka Flame.
"I feel like people still don't take YouTube as seriously, that's another reason why I'm still always doing music and acting just trying to show you can take YouTube as seriously."
He admits that although there is so much uncovered ground, certain online content on the video-sharing site has become "so saturated" with scores of wannabe vloggers grappling for subscribers. "YouTube is really hard right now. I would say only a few hundred people are really breaking out nowadays. It's so tough."
The multimillionaire adds that budding vloggers are often feel frustrated reality sets in and they don't see the level of growth they expect when they start producing content, so resort to drama-based videos in order to get views.
"It's very different to what it was like years ago, where back in the day it was just people playing games and just having fun and showing new tactics on how to win games," he laments.
For those that are still determined to follow in his footsteps he says that content is king. "Think of new ideas try to stay on trend and just have fun with it. Don't see it as a money earner because you're not going to make any money if you have that mindset."
© Copyright IBTimes 2023. All rights reserved.