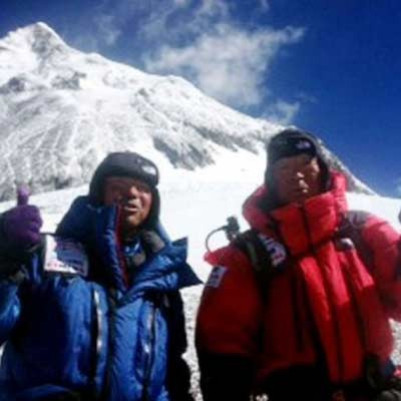 A Japanese extreme skier has become the oldest man to scale the summit of Mount Everest at the age of 80.
Yuichiro Miura and his son, who is a physician, reached the top of Mount Everest on the morning of May 23. However, this isn't the first time Miura has scaled the highest peak in the world - he accomplished the feat twice in his 70s.
Miura as a young man was a famous daredevil speed skier. The highlight of his career was skiing down Everest's South Col in 1970, using a parachute to brake.
This feature prompted the famous 1975 Oscar-winning documentary 'The Man Who Skied Down Everest', a biopic of his career and achievement.
Miura scaled everest just four months after undergoing surgery for an irregular heartbeat. Reports suggest this is his fourth heart operation since 2007.
He also fractured his pelvis and left thigh bone in a 2009 skiing accident. However, despite his injuries and health issues, the daredevil scaled the summit.
In a phone call to his Tokyo-based support team after reaching the summit, Miura said: "I made it! I never imagined I could make it to the top of Mount Everest at age 80.
"This is the world's best feeling, although I'm totally exhausted. Even at 80, I can still do quite well."
Coincidentally, the oldest woman to have scaled Mount Everest is also Japanese. She was 73 when she accomplished the feat.
Two days ago, an Indian woman became the world's first female amputee to scale Mount Everest. Arunima Sinha, who has a prosthetic leg, took nearly 17 hours to reach the summit.
This year also marks the 60th anniversary of the first expedition to scale the highest peak in the world by Sir Edmund Hillary and Tenzing Norgay. The feat was accomplished on May 29,1953.