Zack Sabre Jr channels spirit of Jeremy Corbyn and Momentum as he conquers pro wrestling business
IBTimes UK interviews Sabre as he contests WWE's first-ever Cruiserweight Classic.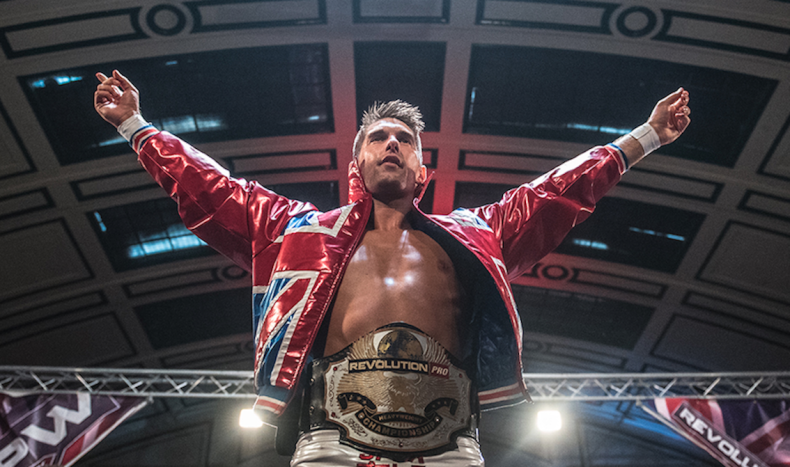 It is rare that a wrestler's interview touchstones feature Jeremy Corbyn more than Baron Corbin, or Ken Loach rather than Ken Patera. But then again, Zack Sabre Jr (ZSJ) is a rare wrestler.
Part of the new vanguard of culturally literate, aesthetically-driven yet commercially-focused British performers capturing fandom hearts around the wrestling world, the 29-year-old Kent lad isn't one to wear his pretensions on his sleeve – unless pressed.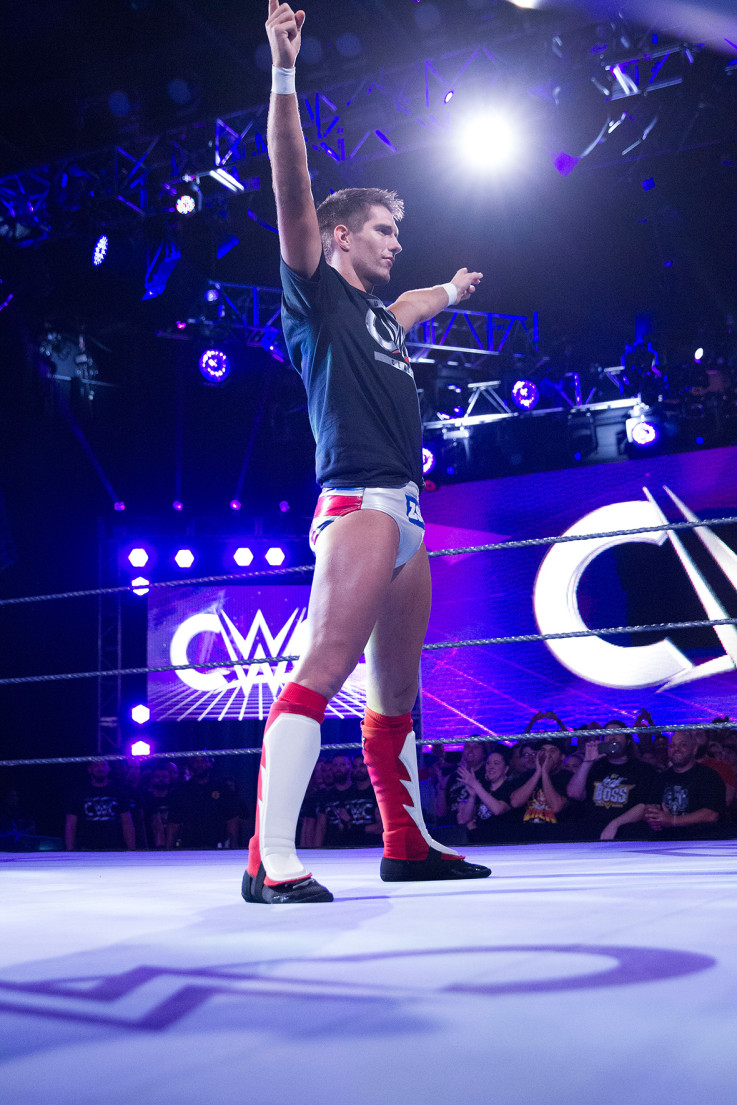 Zack Sabre Jr.
WWE
Despite the plaudits, the man who can be found headlining independent shows across three continents on a weekly basis maintains a healthy approach to the hype – an attitude as important in his rise to the top as his kicks and arm-wrings. ZSJ is always one to stand out.
Currently competing in WWE's first-ever Cruiserweight Classic, ZSJ beat Canada's Tyson Dux in the first round before a routine pinfall victory over Drew Gulak. He faces Scottish/Israeli Noam Dar in a quarter-finals bout due to be filmed on 26 August.
Talking about the niche celebrity that comes with adulation from smarks and semi-marks across the globe, he says: "Wrestling has absolutely absorbed me forever. I started training when I was 14, so half of my life I've been involved in wrestling.
"What I try to have an awareness of – and I've always been very conscious and made a valiant effort to remain in this universe because wrestling is make-believe – is that it is adults following fantasy.
"I couldn't love it more, but I also have lots of passions and interests outside of wrestling, so I make a very conscious effort to not be completely carried away by it because it is very self-indulgent. It's not like I have a wrestling character that's a million miles away from myself.
"I'm very lucky that a huge part of my success has been down to people raving about my work and suggesting others check me out. So I don't disregard it and I'm very thankful to any fan who refers to me as the best in the world but it is arbitrary, really. Wrestling is subjective."
Sabre's articulate yet earnest approach to the business in front of curtain is matched by his outlook on what happens outside of the ring. Alongside fellow workers Adam Cole, Dave Mastiff, Kyle O'Reilly, Angelico, Gail Kim and Fergal "Finn Bálor" Devitt, he is a stakeholder in the clothing brand SPLX, which promotes the sportswear side of pro-wrestling.
The septet are involved at a deep level in the business. SPLX was set up in 2013 in the West Midlands by Joel Allen (familiar to British wrestling fans as a referee in the national scene), Cole, Mastiff and ZSJ.
The language Sabre uses when discussing SPLX – "members", "collective", "progressing together" in a world where decisions are taken jointly – provide a hint to his personal politics.
"Wrestling is about the selfish pursuit of one individual wrestler," he says. "You look at other sports, especially combat sports, guys really brand themselves as a team and they fight and train together and they really representing [their team]. So I wanted to show that side of wrestling – that we're all trying to aspire for our own individual path but there is a real team element, especially when you find people on the same wavelength."
Asked whether he could be the man to finally unionise pro-wrestling, a task that has sacked many careers, ZSJ replies: "I do find myself thinking a lot about the mind of the trade unions in Britain and some kind of wrestling trade union does cross my mind. But we'll have to take one step at a time..."
He laughs: "Wonder if I can become a Momentum-sponsored wrestler? I'm firmly behind Jeremy Corbyn."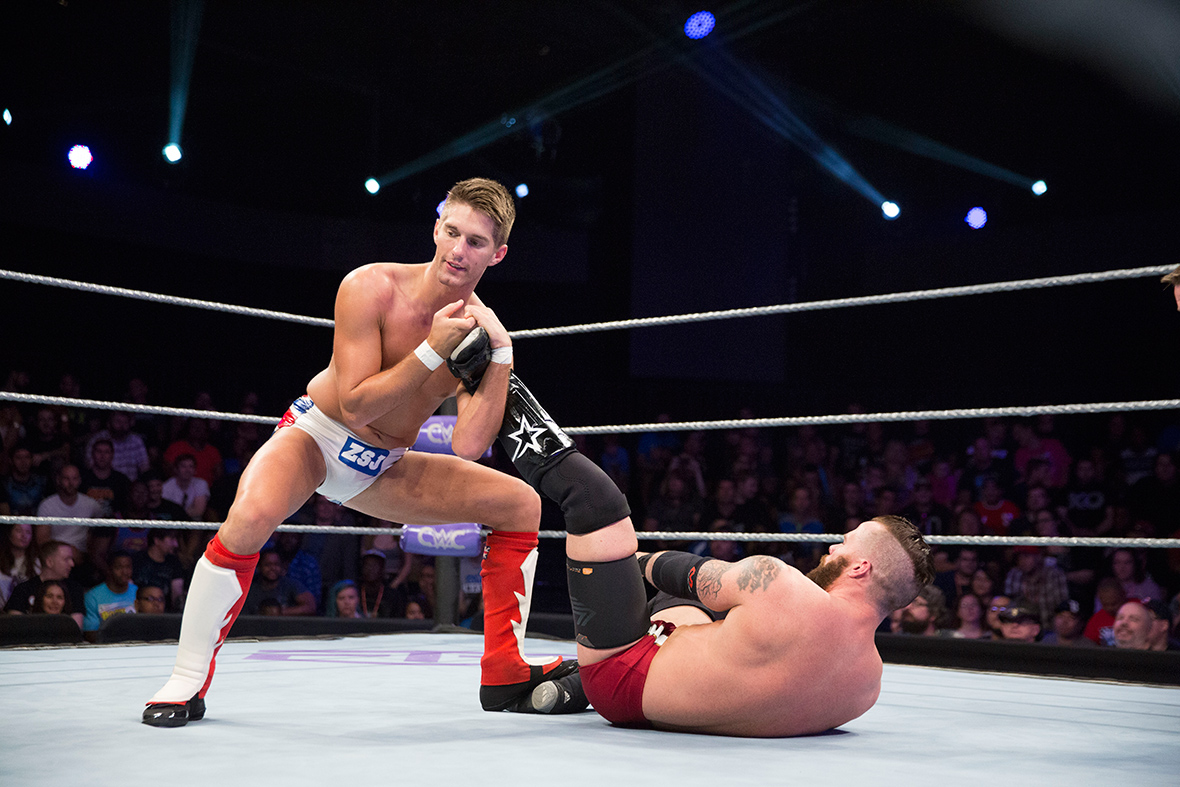 Referring to his fellow SPLX members, he continues: "Dave Mastiff is someone I have a huge amount of respect and admiration for. To be on the team with someone like that from the UK, I'm very proud.
"Subsequently, with Adam Cole joining as the third member, and everyone else that we've added to the team, there's a real level of respect and mutual understanding between the members. SPLX doesn't just add people willy-nilly. There's a lot more care put into it - and as members, our opinions are taken on board too."
"I think the most important thing is we're all passionate about the project. I think the goal of every member is that we contribute to, add to and enhance matters positively - rather than take for personal gain.
"We all want to progress ourselves as well, but as SPLX as a brand, a company and a collective grows, then individuals grow as a part of that team, as opposed to people leapfrogging from it. The whole thing has been so positive, but that's because Joel, who runs SPLX, has put a lot of thought into who should be added to the team."
---
And check out www.suplexapparel.com for SPLX's latest range of summer sportswear.