Zidane refuses to accept Real Madrid are the big favourites to win El Clasico at Barcelona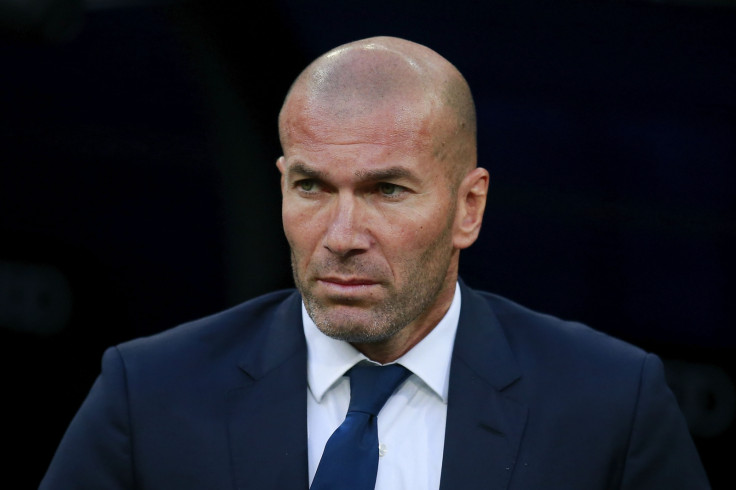 KEY POINTS
Los Blancos travel to Barcelona on top La Liga, six points ahead of their arch-enemies.
Gareth Bale, Kroos, Morata, Danilo and Coentrao remain on the sidelines.
Zinedine Zidane has refused to accept that Real Madrid will be the big favourites when Los Blancos visit the Nou Camp on Saturday (3 December). The French boss will have some key absences in his side as all Gareth Bale, Toni Kroos, Alvaro Morata, Danilo and Fabio Coentrao will remain on the sidelines for the first El Clasico of the season.
The number of injuries at the Santiago Bernabeu during the first part of the season have not prevented Los Blancos from travelling to Barcelona on top of La Liga table, six points ahead of their arch-enemies.
Real Madrid are still unbeaten in all competitions this season and arrive at El Clasico following five consecutive victories, including an impressive one in the derby against Atletico Madrid on 19 November.
Barcelona, however, have only won two or their last five games, being held to consecutive draws in La Liga against Malaga and Real Sociedad.
Zidane admits that his side are in a strong position to win La Liga title but refused to accept that Real Madrid are the favourites to win at the Nou Camp.
"I know their squad is capable of hurting you, that's all there is to it. I haven't found Barcelona's weak point, because every game is different. We study our rivals, we know how we can hurt them, but there's no weaknesses, they're a very strong side. They are two great teams playing against each other and we'll see what happens. There are no favourites in the Clásico. It's 50-50 and I don't like what I'm hearing otherwise," Zidane said in the press conference ahead of the game.
"There's nothing better (than beating Barcelona). It's a Clásico and every player dreams of playing in one. I was lucky enough to play in it and we just want to enjoy the game. It's very special for everyone. There may only be two Clásicos each year and everybody is very eager to play them. There's a lot of expectation and huge interest in this game. We've prepared it with a real desire to show that we can win these types of games."
Yet, last season Barcelona were the ones to arrive to El Clasico in a better form but eventually Real Madrid got the three points.
"Tomorrow will be a completely different game," Zidane recalled. "I've got a word to describe it, but it's rude: Last year we went there with our arses on the line, if you'll excuse me. Now it's different. We've got to do this with our heads. The opposition are very strong and it's going to be a different match. All I want is for us to be prepared, just like last year, and how we've been doing things recently."
The visit to Barcelona will arrive too soon for all Bale, Kroos, Morata, Danilo and Coentrao. However, Zidane welcomes back Casemiro after the Brazilian already made his long-awaited to action in the Wednesday's Copa del Rey 6-1 victory over Cultural Leonesa. Yet, Zidane failed to confirm whether the Brazilian will make his line-up
"I've already decided the starting XI. Casemiro is with us and we all know what he has to offer but we'll see what happens tomorrow," the Real Madrid boss said. "I'm happy to have him back because he's getting better every day."
Barcelona manager Luis Enrique has also been given their own injury boost as the Andres Iniesta is back available following six weeks on the sidelines. But Zidane said that nor the return of the Barcelona captain or the talent of Lionel Messi will disturb his plans.
"Iniesta's presence won't change what we're setting out to do, but he's a great player and is very important to his team, the boss added. "We all need points, not just Barcelona because they're behind. We might be ahead but that doesn't mean anything. We have to show why in every game. We all know what kind of player Messi is. He's one of the best players in the world and we're going to have to keep an eye on him, just as we will with the whole team".
© Copyright IBTimes 2023. All rights reserved.