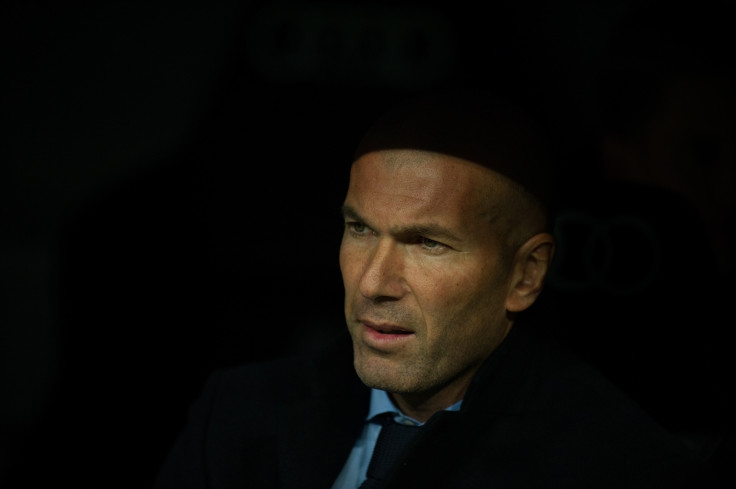 Zinedine Zidane has admitted that his Real Madrid future will rest on the upcoming Champions League tie against Paris Saint-Germain after taking full responsibility for the humiliating Copa del Rey exit to Leganes on Wednesday [24 January].
The French boss has led Los Blancos to two Champions League crowns and one La Liga title since taking over from Rafael Benitez in January 2016.
However, his position at Real has come under question following a disappointing start to the season which have seen them fall 19 points behind leaders Barcelona in La Liga.
The pressure increased on Wednesday night after Real were surprisingly knocked out of the Copa del Rey by Leganes.
Zidane's side had a 1-0 advantage from the quarter-final first leg but they lost 2-1 at the Santiago Bernabeu said goodbye to the possibility of clinching another trophy this season.
So with the domestic season all but over for Real, Zidane admitted that his fate will now be decided in the next month's Champions League last 16 tie with PSG.
"Obviously, it's crystal clear," the boss replied when asked whether his future could depend on the double clash with the Parisians.
"I'm responsible for this, I'm the coach. I have to find the solutions. We found ways through but not enough. I take responsibility for the situation, I'll continue working and fighting. I'm going to try things to make the team better and that's it."
Zidane opted to rest Cristiano Ronaldo and other regular starters against Leganes as he had done in the previous rounds of the Copa del Rey.
But the boss said that him - and not the fringe players - who is responsible for the embarrassing elimination.
"I'm not angry with my players, I'm angry with myself. They give it their all, run hard... I am responsible. They have to accept a degree of the responsibility because they're the ones out on the pitch. We're all to blame, but I'm the one who's responsible," Zidane said.
"After winning the first leg, we can't be starting the game like we did today. It's a logical result because the opposition played their game and we failed to do that. I take responsibility, I consider it a failure. I'm disappointed, I take full responsibility, but tomorrow is another day and we have to get up and think about Saturday's game. It's a real blow today,
"We mustn't get carried away, but it's tough to take. We know in a knock-out tie it's a case of playing two games. We did what was asked of us in the first, but we can't start a game like we did today. I'm in charge of this team and I got several things wrong. We'll have to analyse it. We'll have to wake up tomorrow and turn our attentions to the next game because there's nothing else we can do. Nobody expected this, but that's football"