Zooey Deschanel may be a singer and an actress but, according to a local Fox News affiliate, she is one of two suspects involved in the Boston Marathon bombings.
Radio show producer and writer Peter Ogburn was watching Fox 4 Dallas-Fort Worth cover the fallout of the Boston Marathon bombing and the hunt for the two suspects, when spotted the error on the live feed.
The Huffington Post reports the station ran an incorrect closed caption which read: "Marathon bombing, he is 19-year-old Zooey Deschanel".
Ogburn took a snapshot of the screen and posted the error to Twitter, after which, predictably, the story went viral.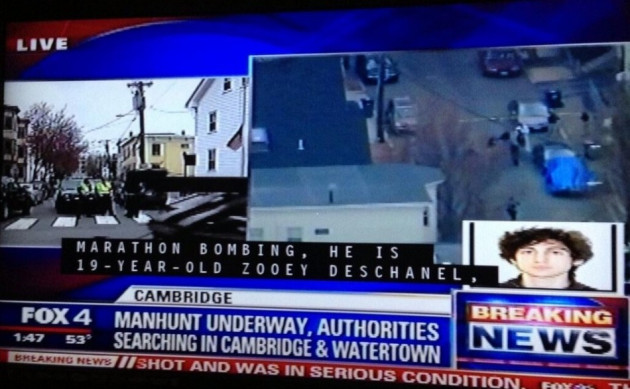 Meanwhile, the 33-year-old Deschanel found out about the mistake and she too took to Twitter, posting: "Whoa! Epic closed captioning FAIL!" And Twitterverse has had its share of the fun too, by mocking calling the affiliated station "Faux News".
The actual suspect, Dzhokhar Tsarnaev, was arrested by Boston police on Friday night. The 19-year-old was arrested in a town called Watertown, after gunfire was reported from a residential area at 7pm in the night.
"I'm happy they caught him. I'm happy he's alive. I want to know why," Jeannette Harvey, a resident of Watertown exclaimed after news of the arrest was confirmed.