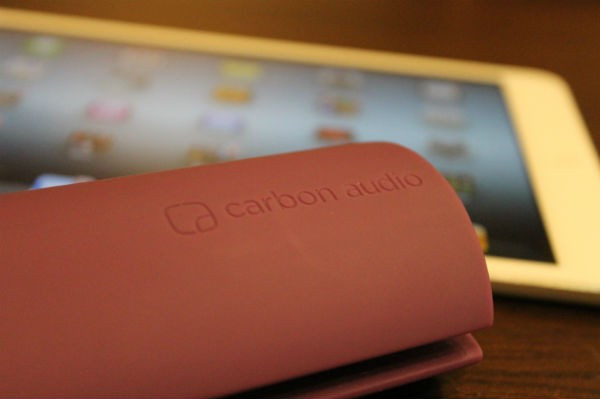 Key Features
HD Audio Sound with A2DP Streaming
Price as Reviewed: £79.99
Introduction
Like so many unknown tech companies these days, Carbon Audio turned to crowd-funding as a way of getting their product out to market.
Back in February the company launched a Kickstarter campaign for its Zooka Bluetooth speaker with a target of just $25,000. It easily beat that, ending up with a total of over $70,000 from 678 backers.
As with all such campaigns, getting the money is sometimes the easy part. Getting the product made, and out to market is another challenge. Carbon Audio launched the Zooka in the US a few months ago, and it is now coming to the UK.
Zooka Speaker: Design
The Zooka is designed to be portable, with a built-in battery allowing you to carry it with you wherever you go. Thecircular sha[pe makes it easy to pick up and hold and it small footprint and light weight means portability is not a problem.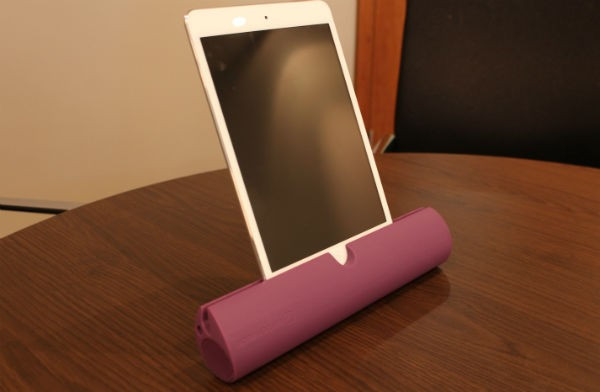 It looks like a mini sound bar you might find sitting beneath your TV. It's cylindrical shape is broken by a narrow grove running down the length of the speaker. It is a simple design and one which is unlikely to disrupt even the most minimal of sitting rooms.
While not mentioned as being specifically designed for Apple's products on the product's webpage, it is clear the designers had iPads and MacBook Airs in mind when coming up with this design.
The narrow groove is just wide enough to hold your iPad or iPad mini, or sit along the top of your MacBook Pro, making everything sound louder. While the speaker works with any device which supports Bluetooth A2DP streaming, Cardon Audio is clearly aiming at the Apple-owners out there.
A neat touch is the integrated metal stand, which means the circular speaker doesn't roll around when placed on a flat surface. Housed in a recess at one end of the speaker when not in use, the small metal bar screws into the back of the speaker giving you a good angle for viewing your iPad.
However when the stand is in place, the controls are inaccessible along the bottom, but this is not much of a problem in reality as you will be able to control everything, including volume, from the device you are pairing with the Zooka.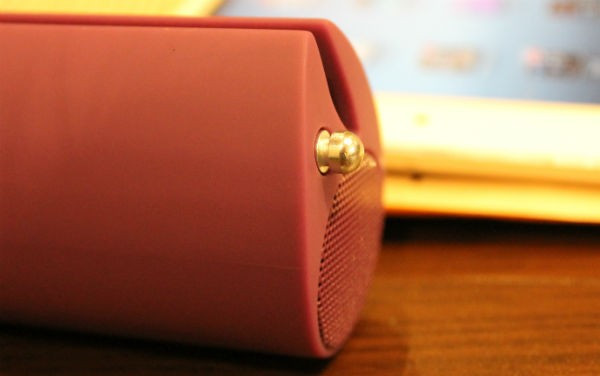 Speaking of the controls, they are also pretty minimalist. A power button, a Bluetooth pairing button and volume up/down buttons are all there is. Sitting either side of there are a microUSB port for charging and a 3.5mm headphone jack.
The Zooka is finished in soft-touch silicon meaning it is nice and robust, which is good for a Bluetooth speaker like this, as it is likely to get thrown into bags and backpacks more than other devices. The matte finish also means fingerprints are not a major problem. The Zooka comes in eight different colours from sedate black to glow-in-the-dark neon green.
Zooka Speaker: Set-up
Pairing your smartphone, tablet, laptop or whatever Bluetooth-enabled device you are using, is simple. Simply turn on the speaker and press the Bluetooth button for three seconds. You'll hear a short beep and you should then see the Zooka appear on the list of available devices on your phone, tablet etc.
Once paired, Carbon Audio says you can be up to 30 feet away from the Zooka without losing the connection, which is standard for Blueooth devices.
Fitting your iPad into the speaker is a tight fit, but once in place it never feels like it's going to fall out. The notch carved out of one side of the speaker also means the Home button of an iPad is also still available even when sat in the speaker.
I did notice however that because of the smaller bezel on the iPad mini's long edges, part of the screen disappears when you place it in landscape mode, which is annoying if you are trying to watch a video.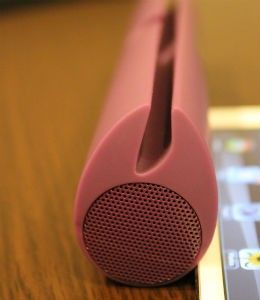 It weighs 907g and while this is not a problem in terms of portability, it does become an issue when you pop it onto the top of a laptop, as Carbon Audio direct you to on its website. If you put it onto an 11in MacBook Air, which weighs only slightly more than the Zooka, you are constantly worrying the laptop will topple over.
The notch which kept the Home button of the iPad available also comes in handy when the speaker is placed on top of a laptop, as it means the camera remains usable.
Another issue with having the speaker placed on a laptop is that it's upside down, meaning the stereo speakers are inverted. This can be very annoying. Imagine watching a car chase scene on your laptop, where the cars coming from the left of the screen sound like they're coming from the right.
Plonking your Zooka on top of your laptop seems like a gimmick to me and I doubt many people will use it on top of the screen, preferring to place it next to the laptop using the metal stand instead.
The built-in battery promises eight hours of use, and I found this to be more or less spot on, meaning you can use it for one long house party, or for listening to the audio book of the Lord of the Rings in your own bedroom in one go. Your choice.
Zooka Speaker: Sound Quality
Of course no matter how good the design of a Bluetooth is, if the thing sounds pants then it's just another useless shinny gizmo clogging up your living room.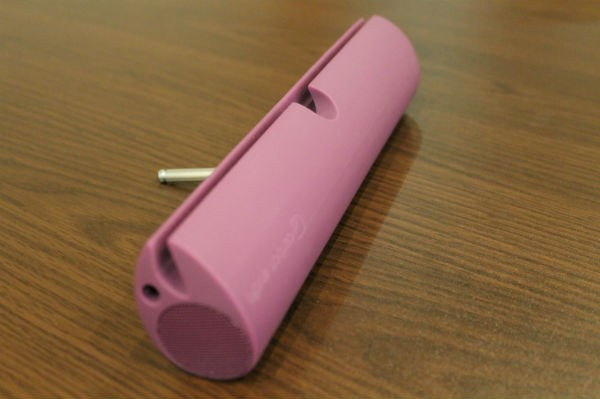 The Zooka is never going to replace a surround sound system or decent speaker set-up, but for on the move, portable sound it doesn't perform too badly.
The two, relatively small, 30mm drivers at either end of the Zooka won't blow you away, but as an upgrade from your smartphone, tablet or laptops it is a vast improvement.
The tiny drivers offer little in the way of bass, so if that's what you're after then you will probably be better off looking at something more expensive than the £80 Zooka. However there is decent treble performance and when it comes to watching films or TV, dialogue was crisp and clear.
Because the speakers are side-firing the soundstage is significantly bigger than I had expected, with stereo effects more believable too.
The speaker also has a built in microphone meaning you can conduct calls - whether through Skype, FaceTime or simply your phone - and while sound on my end during calls was clear, those on the other end of the line reported a slightly muffled and low sound.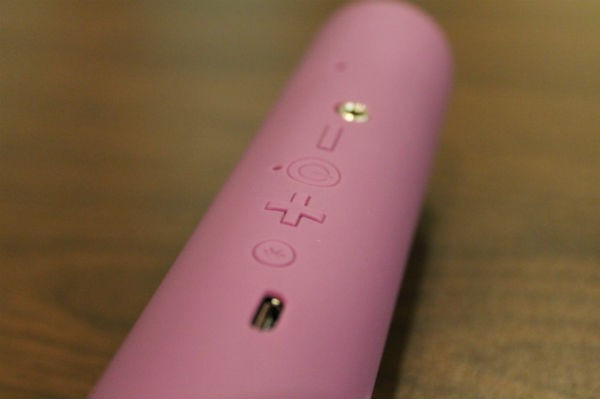 Finally, and significantly, I noticed a distinct pop or crackle every time I connected a device, and at the end and beginning of every song on album, which becomes very, very annoying after a while.
Zooka Speaker: Verdict
At £80 the Zooka is certainly not the most expensive Bluetooth speaker on the market. If you want to go big then you can look at something like the JawBone Big Jambox, which costs over £250 but offers much bigger sound.
While it may not be the most expensive, at £80 it is also not an impulse buy and with Bluetooth speakers available from less than £20, users will be looking for something a bit more for their money.
The Zooka is a well-built, nicely-designed speaker, which is portable and has good battery life. Not being limited to AirPlay - as the likes of the Zepplin Air and Arcam rCube are - means you can connect any Bluetooth device to the Zooka.
Set-up is relatively painless, and the Zooka offers much improved performance over a smartphone, tablet, or laptop speakers.
However, with a serious lack of bass and annoying crackles and pops during connection and when changing tracks, the Zooka may not be the answer for the audiophiles out there.
Scores:
The Good
Well-built
Good battery life
The Bad
No bass worth talking about
Crackling and popping during connectionw