Key Features:
4in display with 480 x 800 resolution, 233ppi
5 megapixel camera
Android 4.0 (Ice Cream Sandwich)
1GHz processor with 512MB RAM, 4GB storage
Price: £69.99 contract-free, plus required £10 top-up
Introduction
On the face of it, the ZTE Blade 3 is a good-looking, if slightly unremarkable smartphone. A rubberised black back, chrome band around a 4in screen, a 5 megapixel camera and Android 4.0 (Ice Cream Sandwich). But there is something that stands out, like a giant neon sign illuminating an otherwise dark and nondescript landscape: The price.
The ZTE Blade 3 costs just £80, SIM-free with no contract. £80 for an Android smartphone with a 4in screen and a 5 megapixel camera is something of a bargain when you consider the iPhone 5 with the same sized screen costs between £520 and £700.
Of course it isn't fair to compare the two phones directly, but if ZTE can sell a decent smartphone for less than £100, should we be expected to pay five times more for something better? I lived with the Blade 3 for a week to see if this bargain-basement handset is worth your time, or if with smartphones you still get what you pay for.
Currently the Blade 3 is only available through the Virgin Mobile network and is priced at £69.99 plus a mandatory £10 top-up, but ZTE is hoping to bring the phone to more networks soon.
Hardware and Design
As I said above, the Blade 3 is a good-looking phone. Not just for the price, but for a smartphone in general. The rubberised back makes it easy to grip and unlikely to be scratched or cracked; the silver and chrome trim, although plastic, make the design interesting and classy; and at 4in the screen is a good size, easy to use in one hand and slip into your pocket unnoticed.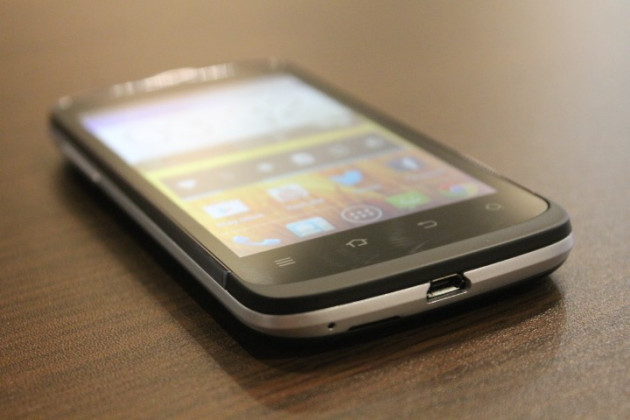 Button and port layout is as you would expect of any modern smartphone. Power button and headphone jack at the top, volume rocker on the left, and a micro USB port at the bottom. It's a shame that ZTE hasn't included a dedicated camera button, but as the 5 megapixel doesn't have a flash and the photography software is fairly basic - taking photos isn't the Blade 3's forte.
Below the screen are four capacitive buttons for Menu, Home, Back and Search. The screen measures 4in, has a resolution of 480 x 800, a pixel density of 233 per inch, and is adequately lit with good contrast, although there is a slight emphasis to the warm, yellow end of the colour spectrum. Blacks are acceptable, but the screen gives off a slight silver tinge when displaying dark colours, making it more reflective than more expensive models.
The rear camera has an attractive chrome surround, but due to the lack of flash photos taken in anything but good natural light will come out dull and noisy, and there's no front-facing camera, although I can't remember the last time I saw one being used.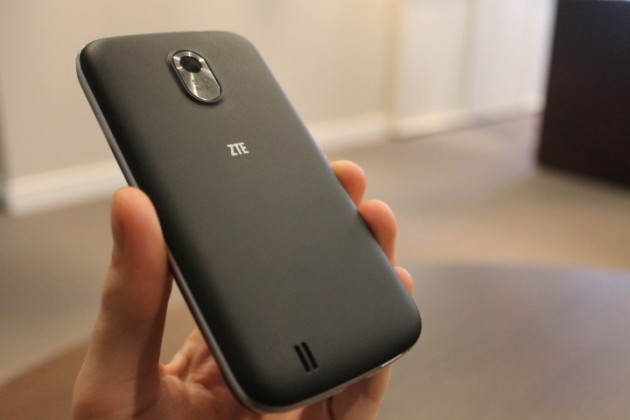 The Blade 3 measures in at 123 x 63.5 x 10mm and weighs 130g, making it light without feeling cheap, and the three tones of black, silver and chrome help to make the centimetre-thick edges seem smaller - a trick also played by the small rubber 'chin' along the bottom edge of the phone.
Software and Performance
The ZTE Blade 3 runs Android 4.0 (Ice Cream Sandwich) on a 1GHz processor with 512MB of RAM and 4GB of internal storage. These stats are well below those of the more popular smartphones, but don't let a slow-sounding processor and lack of internal storage put you off.
Thanks to a microSD card slot beneath the removable back cover, you can easily increase the storage by 32GB, and cards of that size cost about £15 so it's an easy fix.
As for the fairly slow processor and lack of RAM, again, this isn't necessary a problem. Sure, you'll struggle to play Real Racing 3 or other such intensive 3D games, but basic games like Angry Birds and Fruit Ninja play fine and high quality YouTube videos stream over Wi-Fi and 3G without a hitch.
There is some occasional lag when scrolling - through a Twitter feed, for example - but this is a problem shared by other Android devices and is hardly noticeable. During a week with the phone I didn't have a single app crash or become unstable.
Swiping around and zooming in and out of Google Maps quickly also caused the Blade 3 to stutter slightly, but this intensive exercise isn't a fair representation of normal use, and in all honesty the Blade 3 is a very competent smartphone. I had a problem connecting to the IBTimes UK Wi-Fi, but a quick reboot of the phone solved that.
The web browser included by ZTE is quite poor, so you'll want to grab Google Chrome from the Play Store, which is much quicker and responsive. Elsewhere, Android has been kept more or less how Google intended, with no invasive skins like Samsung TouchWiz or HTC Sense.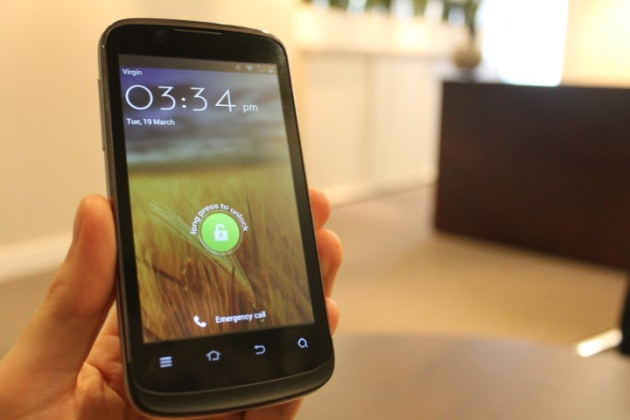 The most obvious change ZTE has made to Android is its own lock screen, which is unlocked by pressing and holding on a green icon for a few seconds instead of the usual swiping action; it's confusing at first but no worse than swiping once you're familiar with it.
ZTE's camera application is very basic, with one slider to adjust the 4x digital zoom, and another to alter picture brightness in an attempt to make up for the lack of flash. Tap the setting icon and you can further compensate for the missing flash by increasing the exposure, and pick from four filters - incandescent, daylight, fluorescent and cloudy.
Finally, the 1,600 mAh battery is good for a full day of regular use (with push email and Wi-Fi on, screen at auto brightness), thanks to the display and processor being less demanding than those of more expensive phones with similar sized batteries.
Value
The most important aspect and unique selling point of the Blade 3 is how little it costs. I showed the phone to friends and asked them to guess the price; most suggested around £200 and no one thought it was worth less than £100. While not scientific, this goes some way to show how consumers judge the value of a smartphone: quickly, and based almost entirely on initial look and feel, not processor speed or the amount of RAM.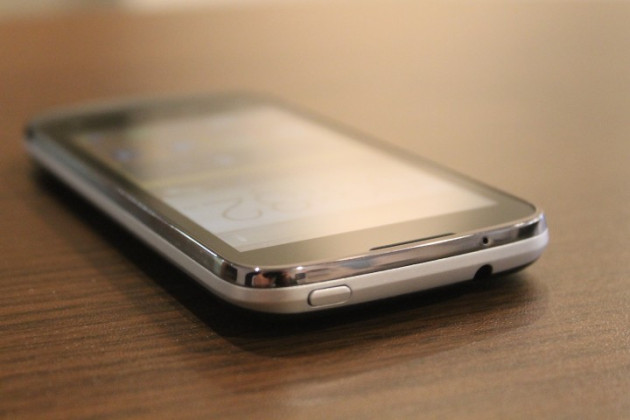 Just as the Orange San Diego blew me away last year with its Intel processor, HD screen and sub-£200 price, the ZTE Blade 3 has once again opened my eyes to the huge difference between how little smartphones cost to make and how much manufacturers tell us they are worth.
At first I thought the Blade 3 would make a good backup phone; one you take to a festival or on holiday and don't mind losing while the expensive iPhone stays at home, but it's turned out to be more than that. You could honestly use the ZTE as your only phone, and for some consumers it's all the smartphone they'll ever need.
So are devices like the iPhone 5, Nokia Lumia 920 and HTC One worth £500? People will always buy them, that's a given, but we shouldn't be made to feel that spending so much is the only option, and while it takes a gamble to pluck for an £80 phone from a largely unheard of Chinese company, it's a gamble that pays off.
Verdict
The ZTE Blade 3 is like a new restaurant I ate at recently. It looked good and had a great menu, but the low prices made me feel uncomfortable. How can it be so cheap? Surely this is a mistake, or the quality will be disappointing...
But my assumptions of both turned out to be wrong. The restaurant was excellent and the Blade 3 is so surprisingly good that I've hardly a bad word to say about it.
When the first iPhone came out its huge price was justified because it was truly unique and genuinely better than the competition, but as the years have flown by the value has transferred from the product to its name and the branding on it, giving lesser-known firms the chance to sell smartphones for what they are genuinely worth, without the desirable, price-inflating name.
With its attractive design, impressive screen and good build quality, the ZTE Blade 3 is much better than an £80 phone should have any right to be, and sets the benchmark for what a sub-£100 smartphone can be.
Scores
Design: 8/10
Performance: 7/10
Screen: 7/10
Battery: 8/10
Value: 9/10
Overall: 8/10
The Good:
Excellent design and build quality for the price
Good screen, despite not being HD
Makes you wonder why others are so expensive
The Bad:
Internal storage is very low, needs a microSD card
Poor camera and no flash
Default web browser is slow but easily replaced with Chrome