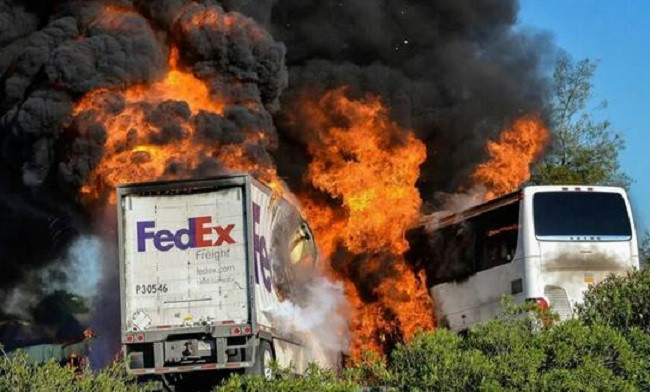 Ten people have been killed and at least 30 injured after a FedEx truck crashed into a coach full of students in California.
Police said the drivers of both vehicles have been killed alongside eight of the bus passengers.
The accident happened on Interstate 5 near Orland, Glenn County, in the northern part of the state.
California Highway Patrol officials told ABC News the FedEx truck crossed into oncoming traffic, hitting a car before it ploughed into the bus.
Students from Los Angeles Unified School District were on board the bus on their way to an open day at Humboldt State University in Arcata.
The university released in a statement: "Our hearts go out to those who have been affected, and we are here to support them, and their families, in any way possible."
Student Jonathan Gutierrez, who was on board the bus but escaped the fire, said: "It was hard to breathe in there, that is when I started panicking.
"The smoke was everywhere like you could not see where you were going.
"The window to the floor down, that is like a long jump and people were just panicking, so they were like throwing themselves out the window and I guess when I jumped out the window I fell on my leg and now I can hardly walk ... but I am alive and that is what counts."
California Gov. Edmund Brown Jr. expressed sympathy in a statement, which read: "As we mourn the loss of those who died, we join all Californians in expressing our gratitude for the tireless work of the Red Cross and emergency personnel who responded bravely to this terrible tragedy."