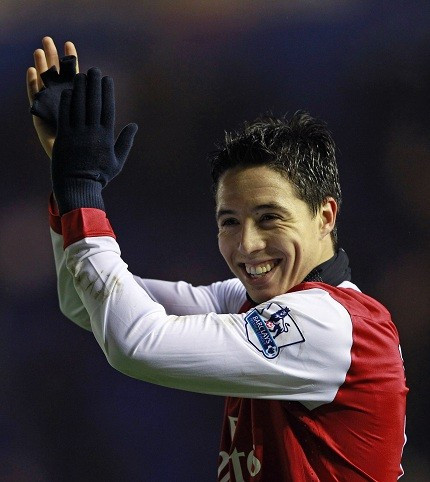 The pick of today's European football transfer rumours for 9 June 2011. Any transfer gossip surrounding Manchester United, Chelsea, Arsenal, Liverpool, Manchester City, Bayern Munich, AC Milan, Inter Milan, Juventus, Roma, Barcelona and Real Madrid will be covered here.
Premier League
Apparently Carl Jenkinson wasn't the marquee signing Samir Nasri was looking for and he'll leave Arsenal in a huff with Manchester United set to sign the fleet-footed Frenchman for between £8-10m.
Arsene Wenger will get over the loss of Nasri by signing Britain's third-best youngster, Alex Oxlade-Chamberlain. The winger, who will be confirmed as a Gunners player on 1 July, will cost the club £12m.
Wenger is also believed to have made enquiries for Bolton and Blackburn defenders Gary Cahill and Chris Samba and Lille duo Gervinho and Eden Hazard.
Manchester United will add Ashley Young to their roster of bambi-legged wingers by signing the Aston Villa player for £20m, Young will sign a five-year deal worth £130,000 a week.
Meanwhile, Tomasz Kuszczak looks to be heading out of Old Trafford after he told Ferguson to pick him or he'll leave United. Never a wise move, son.
Liverpool will console themselves after losing out on Ashley Young by bidding on Kevin Phillips, Alex Hleb and David Bentley to see if United will buy those players too.
They'll then outfox United with an underwhelming £5m bid for skittish Arsenal left-back Gael Clichy who only has one-year left on his contract. But Kenny Dalglish will have a headache in midfield next season as Juventus aren't interested in making Alberto Aquilani's loan deal permanent.
Luka Modric could be on his way out of White Hart Lane, "I'm a Tottenham player and will be in London on July 7 to begin preparing for the season," he was quoted as saying. "But I want to say that transfers could occur later. In England it is often the case they happen on the last day of the transfer period, 31 August. So it is pointless to worry about anything now. "If my situation changes after the start of preparation it would not be a problem."
Chelsea are reportedly interested if for no other reason than they aren't linked with anybody else today.
And in this morning's obligatory, slightly underwhelming Manchester City news, the Eastlands outfit are being linked with Keisuke Honda.
La Liga
Barcelona still want Cesc Fábregas and are willing to pay Arsenal £30m for his services, the Gunners want £50m but Barca only have £35m to spend this summer. You do the math.
The European champions could raise the money from player sales, with Bojan, Jeffren and Maxwell expected to leave. They've all played for Barcelona so they must be good, right?
The Catalan outfit are also in talks with Udinese over a possible move for Arsenal and Liverpool target Bojan Krkic to the Serie A outfit, according to the player's agent.
Bojan, 20, is reportedly being offered to Udinese as part of a deal which would see Chile winger Alexis Sanchez move to the Nou Camp this summer.
Bundesliga
Jerome Boateng wants to quit Manchester City after a mixed season. "I want to join Bayern. They are number one in Germany and amongst the top six clubs in Europe," the defender told Kicker. The issue of price remains though, and Bayern are way off City's valuation at the moment.
Munich have also had a reported offer of €10m for Bayer Leverkusen midfielder Arturo Vidal rejected, according to Leverkusen's director of football Rudi Voller, who told Kicker: "Our principle is that Arturo is too important to us and we want to keep him in any case, whether the offers come from Munich or Napoli, they are not high enough to force us into a rethink."
Serie A
Concerned by the paucity of tearful, preening, pouting, Portuguese goal-getters strutting around the San Siro, Inter Milan will offset the loss of Wesley Sneijder to Chelsea by pinching Nani from Manchester United. The winger has found himself marginalised at Old Trafford after the return of Antonio Valencia.
The news that Wesley Sneijder has "pledged his future" to Inter should fool no-one that his future lies elsewhere.
Gianluca Zambrotta has told La Gazzetta dello Sport that Milan should buy Marek Hamsik. He stated: "Marek Hamsik would fit in very well at Milan. I would love to see him join the team. He has already shown at Napoli that he is a player who can make the difference.''